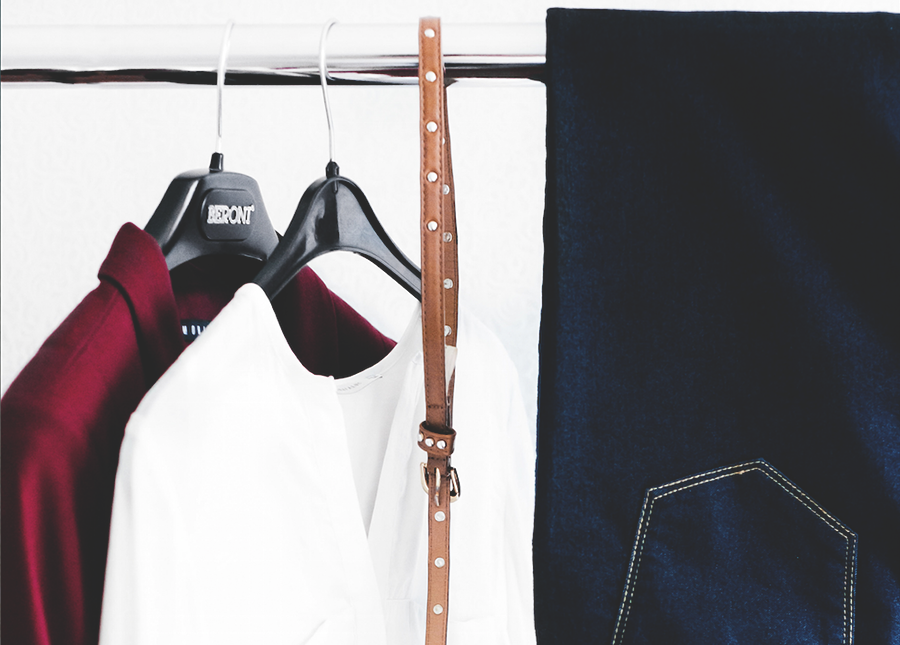 A funny thing happened when I decided to actually try out the "uniform" concept in fashion: I was actually dressing with more variety than ever. For too long, I resisted the idea of a fashion uniform because I thought it meant keeping a too-small number of clothing items in my rotation, permanently falling behind on laundry, and never once giving myself the chance to have some fun with fashion. But now, I see a uniform as a carefully planned and executed combination of clothing items that you know will work together — it doesn't mean you're wearing literally the same thing every day.
I have the same three uniforms that I pick from on a daily basis, although there are slight variations on all of them. Uniforms should be picked based on the combinations of fits, textures, and colors that you know work together. While the late-night laying out of tomorrow's outfit is a great practice, I have found that I don't actually need to do that when I know what pieces will fit together well.
These are the three uniforms I've bounced between for the last year, which have worked for all seasons (from a windy and sloppy Toronto winter to a hot and sticky summer). I've included some tips on how to dress them up or down and make them look expensive, even when your budget is still a little tight.
1. Skinny jeans, a loose blouse, ankle boots
I love the fun of mixing jeans with a nicer top. One of the easiest ways to look like you have your fashion shit together is to play with contrasting proportions, which is why I like to pair a streamlined lower body with room to breathe on top.
The summer variation: A sleeveless blouse in the summertime is always preferred. I'm a big fan of balancing not only proportions but also fashion genres, so in warmer months I especially love contrasting a pair of jeans with some rips and shreds with a crisp, classy blouse.
The winter variation: Longer-sleeved blouses are obvious, but this look also lends itself to layering. A trick I've learned for winter layering is that when wearing closed-front tops, layer the shorter top on top (for example, pull a sweater over your blouse to create a cool look with the blouse peeking out the neck and at the hip). For open-front tops, layer the longer pieces on top. I love to wear a denim shirt on top of my blouse, topped with a longer cardigan.
Making it look expensive (even if it isn't): Wearing a blouse that's buttoned higher eliminates the need for a ton of jewelry. I also find blouses with simpler, classic cuts in solid colors tend to age better than patterned pieces in trendier cuts, which don't handle a ton of washing well. Hand-wash your blouses as much as possible to eliminate odor and staining, and press or steam as soon as they dry.
2. Neutral slacks, a T-shirt, a fitted blazer and Converse
A blazer fitted at the right places and well-pressed slacks help bring a feminine edge to what would otherwise look like a casual outfit. I mostly keep my T-shirts solid, but a low-key print like stripes can also add to the full look without making it a clash of styles.
The summer variation: Swap the T-shirt for a light layering tank — or, if longer pants aren't your things in the summer, a capri-length slim fit trouser gives off a similar sophisticated effect (just make sure you're also swapping the cool running shoes for flats or heels).
The winter variation: A turtleneck (one without too heavy a knit) will keep you warmer than a T-shirt and can stand alone without the blazer. The look also works with some over-the-knee boots.
Making it look expensive (even if it isn't): If wearing a solid T-shirt or tank, go a little bolder with a necklace for added color and texture. The small investment of getting your slacks hemmed to the exact right length can also add to their longevity and make you look just a little more put together.
3. T-shirt dress, an overshirt, and booties
I never liked dresses as a kid, but they certainly come in handy when you're not great at matching. T-shirt cuts that hit at the mid-thigh are usually neutral enough to be dressed up but don't have any sort of restricting fit in the midsection. I love to pair a black or grey dress with a chambray or denim shirt on top, usually unbuttoned.
The summer variation: Tying the shirt around the waist can actually give this look a fashionable grunge vibe while maintaining practicality. You can give your feet a bit of breathing room with some plain flats, but I wouldn't recommend anything with too much of a heel depending on the length of the dress.
The winter variation: Dark tights can instantly take this look into winter (and look crazy-chic with ankle boots). To add warmth, a cardigan with the denim shirt can look unexpected without being too busy or bulky (just follow the above layering rule for open-front tops).
Making it look expensive (even if it isn't): A well-pressed shirt makes the whole look clean and defines exactly where each piece hits. If adding tights, keep clear nail polish on you to fix runs on the go, to avoid the tights looking unintentionally grungy.
Bree Rody-Mantha is a business journalist and dance teacher living in Toronto. In her spare time, she enjoys sport climbing, lifting and running the vegan food blog, Urban Garlic. Follow her on Twitter here.
Image via Unsplash