4 "Investment Pieces" I Wasted $1,100 On (& What I Should Have Bought Instead)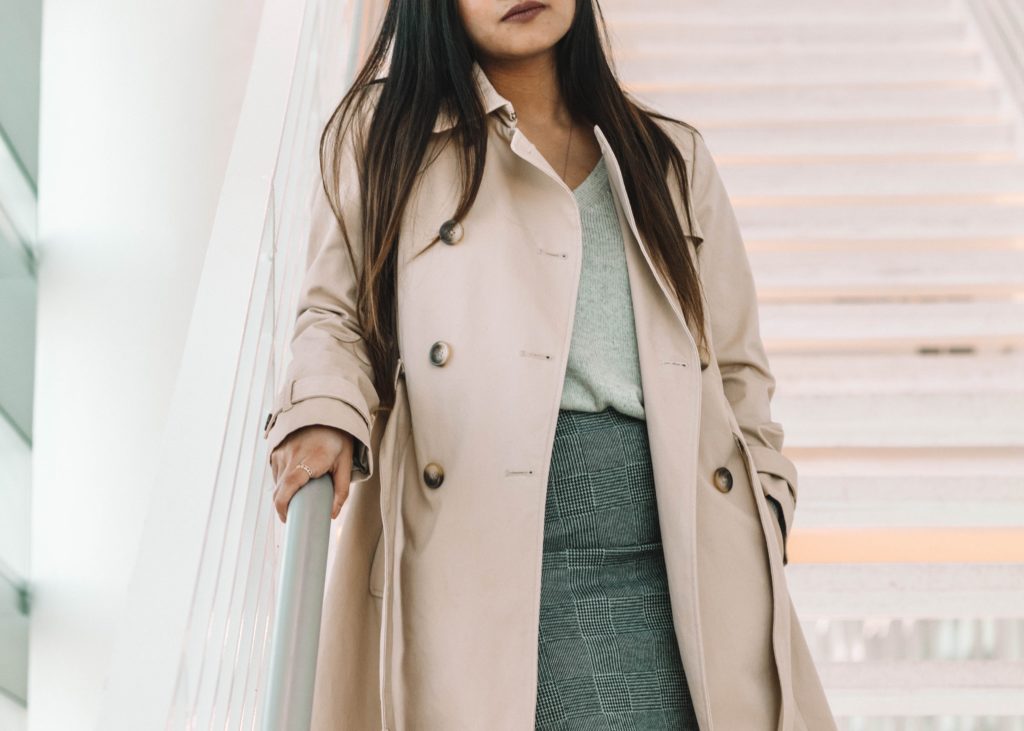 Almost a decade ago, I graduated from college and I was about to start my first "real job" at a law office. I was very excited, and I wanted to dress well and look professional. But the realization that I had literally no work clothes to work with made me really anxious. I was a jeans and sneakers kind of girl, completely clueless about how to build a work wardrobe, and more importantly, how much it should cost me. Since some of my well-dressed colleagues shopped at nice department stores, I started shopping at them, too. Again, I had no idea what to look for in an item, but I thought that I couldn't go wrong with expensive essentials — or "investment pieces," as the fashion magazines called them. So, I bought several expensive items that sounded great in theory, without thinking if they'd be actually practical or fitting for my lifestyle.
I spent a total of $1,100 on just four initial purchases. I wasn't really able to afford them — I dipped into my savings and stretched my first paychecks. But even if I could have afforded them, they ended up not being worth my money.
Here are the 4 major investment pieces I regret splurging on:
1. Beige trench coat — $450
The trench coat that was supposed to be the ultimate timeless piece was, in fact, the ultimate hassle. The fabric would crease every time I sat down during my commute, and it required constant ironing. Of course, I had no time to iron, and on top of that, it was super sensitive to any and all stains — I ended up getting it dry cleaned constantly.
Where is it now? Sadly, still in my closet, even though I never wear it. I know I should get rid of it, especially since it has a stain that wouldn't come out even after repeated dry cleaning. I can't sell it because of the stain, but I feel stuck with it, because I feel like I paid too much to throw it out.
2. Ivory winter coat ($250)
Admittedly, this coat looked great on me and still does, but the problem with this piece is that it is a bit too fancy and not very warm. I can't wear it on days off because it only works with dressed-up outfits, and I also can't wear it when it is really cold outside (only on "chilly" days).
Where is it now? This also still lives in my closet, and I actually wore it this winter to a special occasion. But this is by no means the everyday winter coat I thought it would be, which is a real shame.
3. Black leather case file bag ($300)
This is apparently a must for someone who works in a law office and totes around case files, but I hated the one that I got and finally decided I'd be better off without it. It was bulky and had only one zipper (rather than not two zippers that meet on the top), so it required maneuvering to open and get something out. But when I left it open, the rest of its content would come flying out. It made me feel like a mess. I quickly stopped carrying it but kept it around in case I needed it for a meeting or a trip. I never did.
Where is it now? I recently sold it for a fraction of what I paid for it, but I was so happy to get it out of my house and out of my life.
4. Black pumps ($100)
These looked amazing, but they were not wide enough for my feet, and I couldn't even get through half a day wearing them. I intended to take them to the cobbler to stretch them out, but I didn't — life happened, and I simply wore other, more comfortable shoes.
Where are they now? I sold them for $10 just to get rid of them, after holding on to them for years.
Here is what I should have bought instead:
1. A black trench coat that doesn't crease as much and goes with everything
Jeans and sneakers, dresses and nicer shoes. I found one about five years ago and have been wearing it ever since. I dry clean it once after every season. Best of all, it was a store brand — great quality and only $70.
2. A warmer, more versatile grey coat
I found one a few years later and paid only $50 because it was March and it was on sale. Again, it works great with both professional and casual outfits, and it's warm on its own but layers well. People often compliment me on it, and it looks brand new even after being worn for so many seasons.
3. A more practical file bag
These days, I carry most of my papers in a binder, but I am on a lookout for a file bag that won't cost me more than $70.
4. Shoes that have a wide enough toe box
That both look and feel good. I've given up on the idea of wearing high heels. I wear shoes that have a small, reasonable heel, and I bought my most-worn pair at an outlet for only $30. And yes, I actually love wearing them.
The lesson from all this:
"Investment pieces" are often BS. I didn't get much wear or pleasure out of any of mine, because they were simply wrong for me. And although my mistakes came from a lack of experience, they also came from thinking that expensive items are automatically foolproof. I now know that you don't have to pay an arm and a leg to look professional, and I look for wardrobe essentials that are long-lasting, reasonably priced, versatile, and easy to maintain.
Annika Fordell is a writer, a mom and a lawyer living in Europe. She enjoys catching up on her favorite TV shows, swimming and having a cookie with her coffee.
Image via Unsplash
Like this story? Follow The Financial Diet on Facebook, Instagram, and Twitter for daily tips and inspiration, and sign up for our email newsletter here.