5 Ways To Motivate Yourself To Work Out After Spending All Day Behind A Desk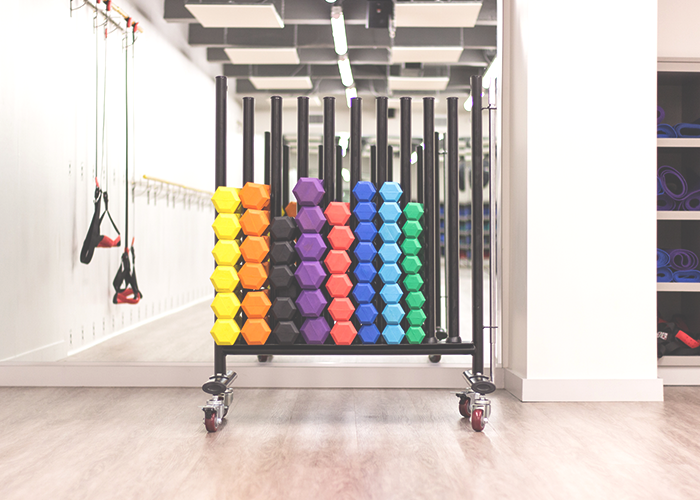 Finding time to do everything you want to do is hard. The internet is littered with memes about how trying to maintain a social life, a job, and an exercise routine is equivalent to facing a tsunami head-on. In a career-obsessed world, it can be easy to work so hard from 9-5 that by the time you get home, the thought of getting a sweat-session in seems impossible.
But the benefits of physical activity are numerous, and you probably have heard all of them time and time again: sharper thinking, more energy, weight loss. Honoring yourself and the commitment to your physical health is crucial, and you don't have to log 25 miles a week to be considered active. Hitting the gym or going for a jog just three times a week is easier than you think. After months of trial-and-error, I've found that a few things that really help stay on track and feel good about yourself.
1. Change the idea of your workout.
Rather than envisioning yourself trudging away on the treadmill as a punishment, think of your gym time as your reward. Stay with me here; this hour is yours and yours alone. Put your phone on do-not-disturb, blast whatever kind of music you want to, and honor that fact that you reserved that time for your life outside of the office. You also don't have to stay for hours on end, just get there and do what feels right for your body. Envision yourself crushing your goals or hitting your record mile time; this hour is all about you. Take out your frustrations on the gym equipment, then walk out glistening in sweat and accomplishment.
2. Remember why you want to work out in the first place.
As a child, no one ever dreamed of sitting at a desk all day. We wanted to play and out-do other kids' cartwheels at whatever cost. Running, hitting the pavement or smashing plates is therapeutic, as well as natural activities we are wired to do. Don't forget that half the battle is getting there; once you're at the gym or on your run, you'll realize why you wanted to get out in the first place.
3. Take baby steps and set goals.
If you're new to working out, start walking to work if you can. Take a few laps at the office or use the stairs. When you go to the gym, do as much as you can while staying consistent, and you will soon see your endurance sky rocket. It's a work in progress, but after a while, it becomes a part of who you are. Being able to do more than we originally could is one of the greatest triumphs in life and often transforms into a habit. Set goals at the gym, and soon you will find that the endorphin rush one is of the greatest rewards after a long day at your desk. Take pride in the fact that you're trying to better yourself; you are worth so much more than a salary.
4. Lay your workout clothes out before you go to work.
Once you get home, you're most likely tired and want to fly head first onto the couch. But if you see a reminder of the non-work side of you, you'll remember the promise you made to yourself as you laid your clothes out that morning. You place value on being active and now you must honor it, as well as all the benefits that come with it. It may be a pain to do this but trust me, it works.
5. Forgive yourself.
You can't do everything. We are so frequently running around trying to be everything for everyone that what we truly want to do goes to the wayside. If you miss a day or a few days, it's not a big deal. Stressing out about it does the opposite of maintaining your health. Just breathe, and know you're doing the best you can. If you feel sluggish or self-conscious, go for a long walk at lunch, or do some squats in the bathroom. Anything that keeps your confidence and mental game sharp, do it. Push yourself to always improve, but keep in mind that juggling takes a lot of work, and you deserve some time for yourself.
Paige is a Millennial resident of Milwaukee, Wisconsin working full-time at a commercial real estate firm. She believes that your financial health can be approached much like your physical health: you get out what you put in. She wants to help others navigate this learning curve and motivate people to take their health as seriously as their credit score.
Image via Unsplash