How Much My Sephora Holiday Haul Cost (+The Freebie I Snagged!)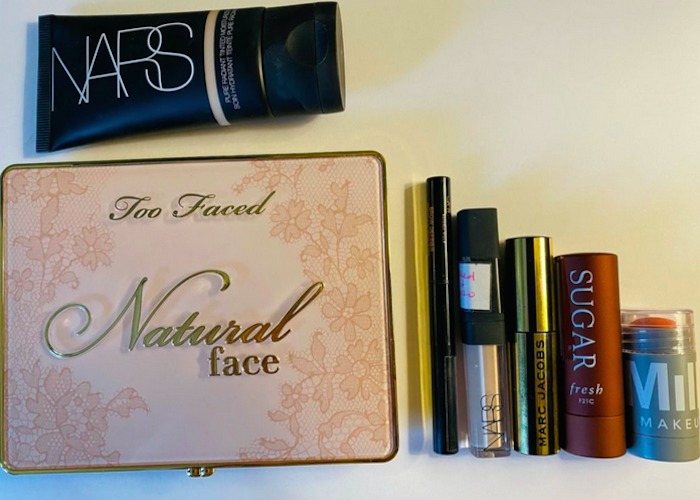 For many of us, 2020 unintentionally became a "no-makeup" year. At the very most, it was a minimal makeup year.
Let's face it; even with Zoom parties or work meetings, the effort to do a "full-face" makeover for the camera was pretty non-existent. And as for going outside, well, we have masks to thank for covering up half of our mug. 
However, as we look to a more promising year (fingers crossed) and adjust to our new normal, I figured it was time for a full-face makeup haul.
When it comes to my makeup shopping habits, it's been a journey. As I've previously mentioned before on TFD, I used to work as a cosmetician. I spent my days selling makeup and skincare to people, which inevitably left me wanting to buy the hottest new item as soon as my shift was up.
This led to a vicious cycle of purchasing new items, never really using them, and wasting my hard-earned cash on cosmetics. However, another topic I've covered for TFD is my shift toward minimalism in recent years, which extends far beyond makeup, but still greatly affects my purchasing habits.
These days, I still love makeup, but I'm strategic with what I buy.
And, as with items like clothing or shoes, shelling out a few extra bucks for high-quality products typically serves you well in the long-run. 
So, here's my pared-down annual Sephora haul, which covers the majority of my makeup needs for the year. There are also a few items like my favourite liquid lipstick and an eyeshadow palette that I already had on hand, along with a full set of makeup brushes that I've purchased over the years. FYI: Take care of your brushes and they will serve you much longer than your makeup products — 10 to 15 years isn't unheard of!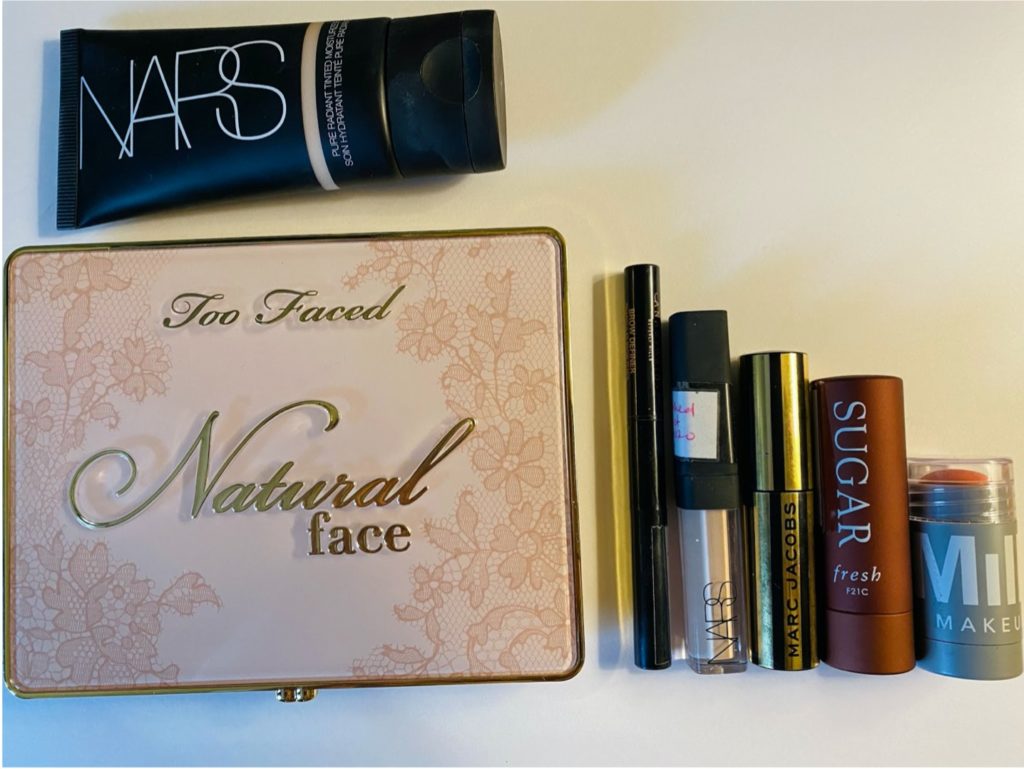 I bought this lip balm after wanting to replace my Clinique Moisture Surge Lip Treatment, and it's been pretty nice. I'd give it a solid 7/10. It's not as thick as the Clinique one, but it's also far less messy and much more pleasant to apply.
If you have super dry lips, this might not be moisturizing enough, but it has a light scent and the packaging is elegant. Worth the splurge if you have the funds, but you could always swap in something like Vaseline if you're on a budget. 
I do like this Fresh Sugar Lip Treatment formula in general — the tinted versions strike a nice balance between the color payoff of a lipstick and the moisture of a lip balm.
I bought this one to replace my drugstore foundation, and I've enjoyed it; I'd give it an 8/10. It applies evenly, doesn't dry my skin out, and has a bit of a fresh "glow" to it. 
I do find, as someone with mixed (cool + warm) undertones in my skin, this runs a little yellow/orange. If you've got warm undertones, this will work great for you, but if you have mixed/cool undertones, beware that you may look a tad orange at the end of the day. It's very slight, though. 
Not sure what undertones you have? Look at the veins on your inner wrist in direct sunlight. If they seem blue, you have cooler undertones. If they seem green, you have warmer ones. If they're somewhere in between, you have mixed undertones. I'm half Irish (cool-toned) and half Spanish (warm-toned), so I'm right in the middle! Knowing where you fall on the spectrum can help you avoid issues when choosing a foundation shade.
There's also a surprisingly strong fragrance to this tinted moisturizer, so if you have super sensitive skin, you might want to pass. Again, it's a nice product if you have the funds, but I wouldn't call it a must-have.
This is actually the only re-purchase out of this haul, so I truly love it! You get six full-sized shades: two highlighters, two blushes, and two bronzers along with a large mirror. It is a massive steal considering the price you'd typically pay for all of those individual shades from a brand like Too Faced. 9/10. 
There is a slight scent to this palette, and the shades are all buttery and apply well to the skin. I should note that these bronzers are on the lighter side, so they may not work well for all skin tones. Be sure to check some swatches to see if you think they'd be a good fit for you.
This concealer is just okay; it's nothing special. Maybe a 6/10. I probably won't be repurchasing. It's adequate and does what it needs to do, but still cracks a bit over dryer patches of skin. I wouldn't really recommend it; I've had drugstore products that worked better in the past.
This has been another nice product — I'd give it an 8/10. I bought it to replace my NUDESTIX Bloom All Over Dewy Color, and the packaging is much easier to use than the NUDESTIX version. It's a small size, but the price was right, and it functions as a 2-in-1 blush and lipstick. When you consider the fact that it's a dual-use product, the price works out to basically drugstore level.
Grand Total: $165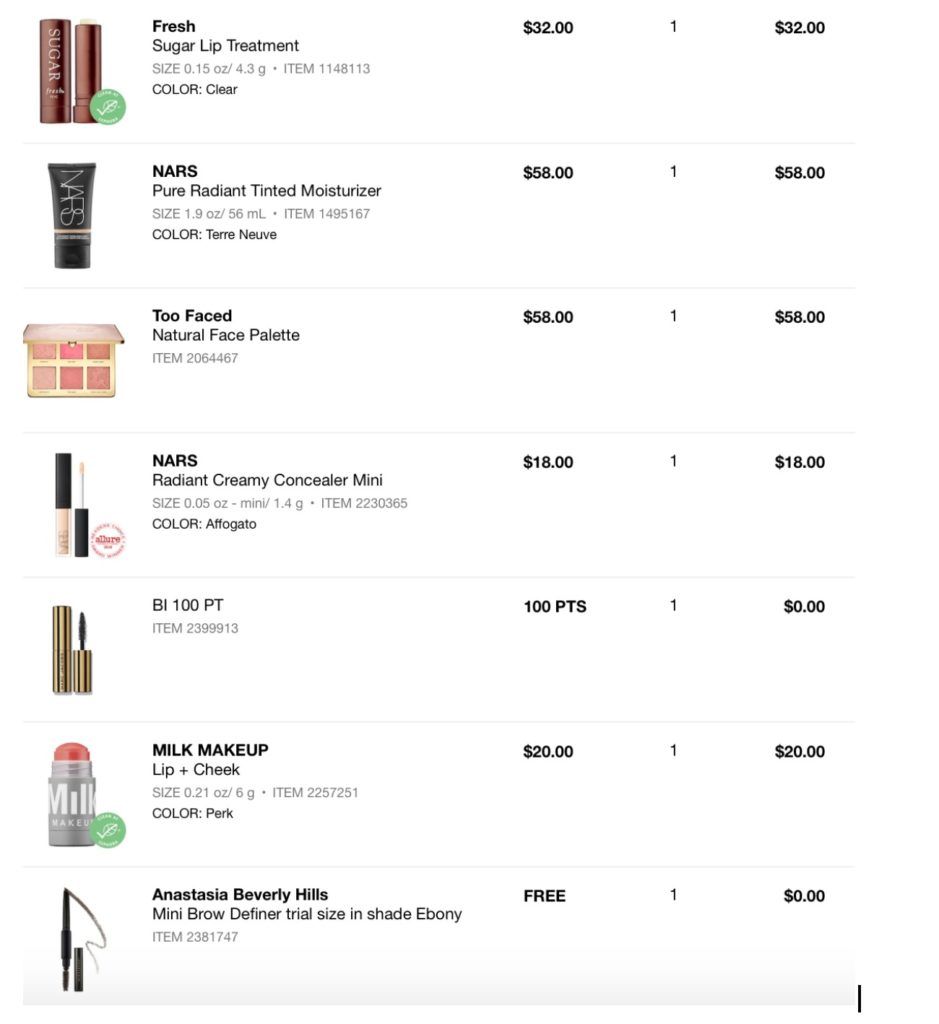 *Note: All prices have been converted from CAD to USD.  USD was the approximate total after taxes.
Bonus Items 
How could I order from Sephora and not get free samples?
With some careful promo code use and redemption of points, I also got a sample size of Marc Jacobs Mascara and the Anastasia Beverley Hills Mini Brow Definer.  
Pro tip: When you're picking free samples, try to go for eye products — specifically mascara — since they expire the fastest. Mascara, as a general rule, should be replaced every 2-3 months (depending on the formula), which doesn't make it worthwhile to purchase super high-end products unless you really want to. Free samples and drugstore versions work just fine.
***
The goal of purchasing these mostly-new products was to assemble a roster of makeup that I could easily apply without the use of any brushes. During quarantine, I've gotten super lazy with washing my makeup brushes, so I like that I can apply most of these products (aside from the face palette) with clean hands or their applicators. Applying a quick face of makeup for a Zoom call has definitely gotten easier!
Mercedes Killeen is a Toronto-based writer, editor, and social media marketer. You can learn more about her work, and read her blog, at mercedeskilleen.com.
Image via Unsplash