How Meal Prepping Has Helped Me Lose 20 Pounds & Save Hundreds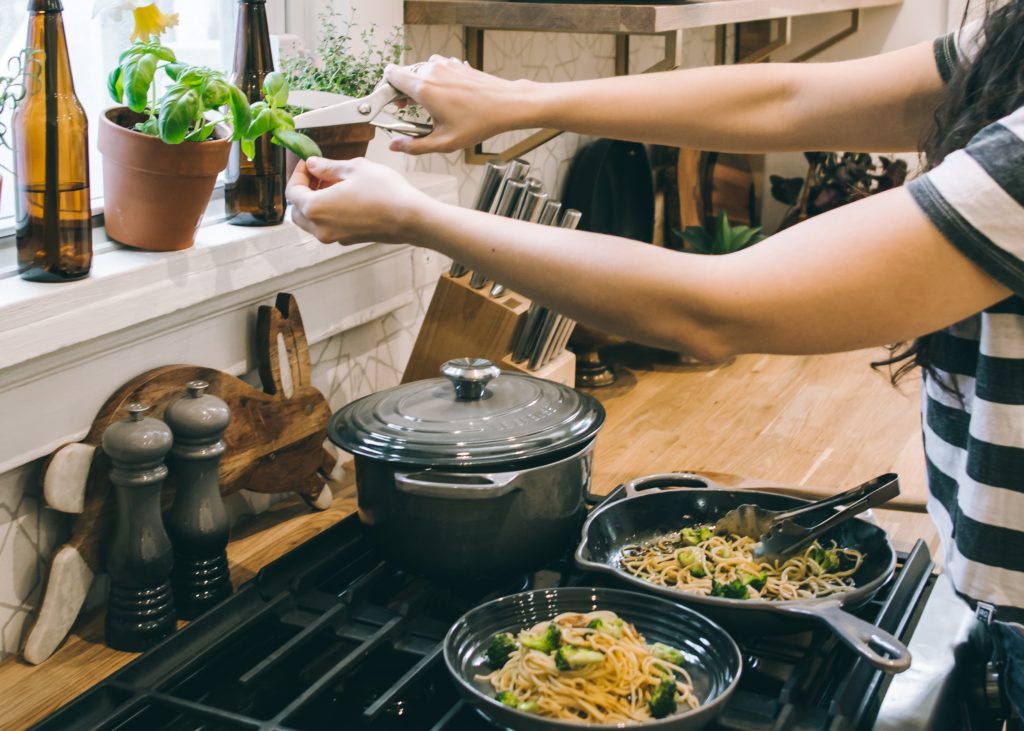 I've always struggled with my weight. I was never a particularly athletic child, and an unlimited meal plan at college made it difficult not to snack or "treat myself" constantly. But since moving across the country for my first full-time job, I've lost 20 pounds in nine months. And this is all without going on an extreme diet or weight loss journey. I simply made sustainable lifestyle choices that I've been able to maintain, and using meal prep to lose weight is a large component of that.
How is meal prepping good for weight loss?
As I mentioned in my Minimalist Meal-Prep Guide, when I meal prep, I spend the vast majority of my time curating my grocery list. And this step is a large reason why I've been able to lose weight and sustain my new lifestyle for the past nine months.
I create a realistic meal prep grocery list.
When I take the time and effort to create a realistic grocery list, double-checking that I'm not repurchasing ingredients that I already have at home, I not only manage to save money and prevent food waste, but I also mentally compel myself to stick to the grocery list I've created. I don't know about you, but I'm the type of person who, after spending time and energy on something, doesn't like to see it go to waste. And I'd be wasting my grocery list if I made impulse buys in the grocery store instead of sticking to it.
My grocery lists are very detailed. I list how many cans of coconut milk or black beans I need to buy, for instance, or I'll list that I want to find a granola bar with only 5-8g of sugar. As such, I give myself permission to shop around for different brands of foods — I don't force myself to purchase the same snacks every week! — but I have limits on those items so that I don't wind up with a bag of chocolate or chips instead.
I practice grocery store discipline.
I've found that by managing to maintain discipline for one hour in the grocery store — always shop on a full stomach — I've avoided impulse buys that I then feel guilted into eating since I spent money on it. Moreover, I simply crave the food in my kitchen. If I have chips and chocolate, I'll crave it. If I have peanut butter and apples, I'll crave that instead.
Is meal prep expensive?
Opening your kitchen cabinets to see healthy food options forces you to eat that food, especially if you're a budget shopper like I am. I've found that by sticking diligently to a pre-curated grocery list, I manage to save roughly $10 a week at the grocery store on "impulse" or "mood" buys that I would have otherwise grabbed. While that doesn't seem like a lot of money, it quickly adds up to roughly $40 a month or nearly $500 a year!
Meal prepping to save money is simple: you just plan ahead.
Because grocery shopping is such an essential part of my meal-prep experience, I link the gains of mindful grocery shopping to meal-prepping. The other benefit I've found to meal-prepping is that it prevents me from indulging in burgers and other processed foods during my breakfast and lunch hours at work. My office doesn't offer any snacks and our cafeteria is fairly unhealthy, as are the nearby food options within walking distance. By meal prepping, I not only save money, but I also eat a nutritious, home-cooked meal where I control the portions and the ingredients. I'm able to cook pre-portioned, high-protein meals that are filling and reduce my cravings for unhealthy snacks by simply not putting myself in the position to even acquire those snacks in the first place. If I wasn't using meal prep to lose weight, I'd easily be spending $75 a week — or likely more — on buying breakfast, lunch, and snacks during the day.
Meal prepping means being more mindful.
An added benefit I've found to meal-prepping, though, is the mindfulness that goes into every step of the process. I enjoy researching healthy recipes and adding my own unique twist to them (mainly, I add a lot more chili powder than recipes require or simply add chili powder to recipes that don't require it, since I love spice) and I feel a sense of accomplishment when I've curated a grocery list that I know I'll stick to. Plus, the act of cooking — which always seemed like such a waste of time, to me, when I could just grab take-out — has become a meditative, enjoyable task for me over time. I now associate meal prepping with peacefulness. I've even become a mindful eater, taking the time to savor the food that took me time and energy to prepare instead of chowing down food that I had no true appreciation for, before.
Try a one-week meal prepping challenge.
Try meal prepping for just 1 week. I challenge you. For me, the results of meal prep to lose weight were gradual, but the gains were immediate. I had more energy during the day when I ate healthier food. I had more money in my bank account when I stuck to my grocery list. And I felt happier because I was healthier.
I am a strong believer in the age-old adage "You are what you eat," and perhaps more accurately, "You feel what you eat." While a burger and fries or a brownie and ice cream can be an indulgence, they don't need to be a necessity. I've always felt bloated and sleepy after eating lots of junk food, and on a daily basis, that simply isn't sustainable. By finally taking control over what I ate — and how much of it I ate — I was able to change my body and my mind.
Meal prepping for weight loss or saving money is not for everyone, but if you're struggling with your grocery bill, your impulse purchases or snacking, or even just want a fool-proof method to force yourself to eat healthy food even in the middle of the workweek when things get tough, I recommend giving it a try. I would say, don't start it with the intention of losing weight, but rather with the goal of making a sustainable, doable lifestyle change that will help you reach your other goals, too. Not just for a weekend at the beach, but for the rest of your life.
Keertana Anandraj is a recent college grad living in San Francisco. When she isn't conducting international macroeconomic research at her day job, you can find her in the spin room or planning her next adventure.
Image via Unsplash
Like this story? Follow The Financial Diet on Facebook, Instagram, and Twitter for daily tips and inspiration, and sign up for our email newsletter here.