My 10 Go-To Cheap, Healthy Meals That Make Weeknights A Breeze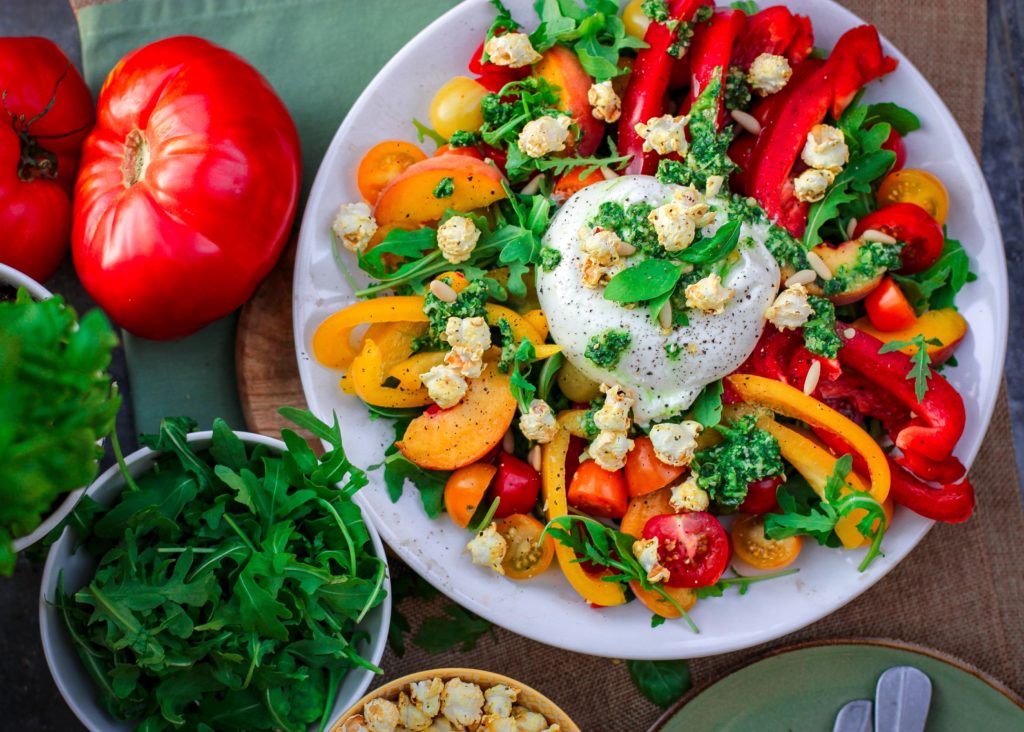 There are some weeknights where I'm willing to tie my apron on, roll up my sleeves, and spend a good chunk of time in the kitchen making an amazing, involved meal. And then there are nights when I want a cheap easy healthy meal but do not have the time or energy to stand over a hot stove stirring risotto for 30 minutes straight.
I try not to eat out much during the week. I save those occasions for the weekend, and because I want to spend my "dining out" budget allowance on something that's going to feel worth it. I never want to just order "meh" takeout instead of cooking something.
So, what are some cheap healthy meals for these situations? Here are ten I fall back on again and again:
1. Indian Dal
Based very loosely on this recipe, I have found that this meal is the most forgiving thing ever. I change it almost every time I make it, based on what's in the pantry and how much time I have. I use whatever lentils I have in the house — black, green, or red — and let it simmer for as long as I can while I do other stuff.
The grated ginger is key, but I've found that if I buy a knob of it at Trader Joe's, I can freeze what I don't use. This makes it even easier to grate on a microplane in the future. I never have heavy cream, so sometimes I'll add a splash of half and half to cut the spiciness, or put a dollop of plain Greek yogurt on it. Sometimes I skip the dairy altogether and just eat it super spicy or with rice, which is also delicious. It's a good cheap dinner idea for two, but I've also doubled and even tripled the recipe to make leftovers for days.
2. Mac & Cheese and A Veggie
This is probably the absolute most basic thing I make, but it's a great answer to that weeknight conundrum: What should I eat when there's nothing to eat? The answer: a box of mac and cheese from the cupboard and whatever frozen veggies I have on hand. I stock up on Annie's Mac & Cheese whenever it's on sale and always keep some tucked in the pantry. I also made a rule that I must have at least one bag of frozen veggies in the house to redeem meals like this. Yes, I ate a dinner popular with the six-year-old crowd. But I also had a big bowl of edamame or broccoli, which makes me feel slightly better about my adult status again.
3. Veggie Flatbreads
This one is easy but tastes much fancier than it is. Start with a bunch of cut up veggies, like zucchini, yellow squash, mushrooms, tomatoes, and a shallot. Roast everything on a sheet pan at 350 degrees (F) for about 25 minutes. Stir a bit halfway through so that everything doesn't stick to the pan too much. Then drizzle with olive oil, balsamic vinegar, and add some feta or another sharp cheese, and toss it all together in a big bowl. Pile it on top of pieces of Trader Joe's frozen naan and throw it back in the oven for 5-6 minutes. Voila: roasted veggie flatbreads.
4. Soyrizo, Mushroom, and Red Onion Nachos/Tacos/Salad
Trader Joe's Soy Chorizo is one of my favorite discoveries of the last few years. After several disappointing forays into meat substitutions, I had just about written the concept off entirely when a friend convinced me to try the Trader Joe's Soy Chorizo, and wow am I glad I did. It has the perfect blend of spices and tastes just like meat chorizo, but it is way better for you. I love to dump this on a baking sheet, put some mushrooms and sliced red onion on top, and cook for about 15-20 minutes at 350 (F) until everything is warmed through and crispy.
This is then the base for nachos, tacos, or over a couple of handfuls of spinach if I'm feeling really healthy. If I have a tangy cheese on hand (something like goat cheese, feta, or sharp cheddar) I add that. But if not, there's enough flavor from the soyrizo that it's still absolutely delicious.
5. Garbanzo Bean and Tomato Soup
I buy canned garbanzo beans in bulk and always have some around for making hummus, adding to soups, or for chili. This soup, adapted from one I found years ago on The Splendid Table, is so easy. I have literally never soaked dried beans overnight, but if that's something you can plan ahead for, go for it! Otherwise, the canned version works just fine. I also don't ever have fresh rosemary or thyme around, but if there's some dried in the pantry, I put in a pinch or two.
I skip the step of transferring a few cups to a blender and then putting it back in the soup, and it is still delicious and creamy just the same. If I have some baby spinach in the fridge I'll throw in a few handfuls for about five minutes toward the end to get some more veggies in there.
6. Mediterranean Chopped Veggie Salad
This is one of my favorite things to make in the summer — produce is plentiful and ripe, and it's way too hot to cook in my un-air-conditioned apartment. It takes a fair amount of chopping, but that can all be done ahead of time. Basically, I cut up a bell pepper or two (whatever color is the cheapest/prettiest), add some red onion (however much I have on hand, not more than ¼ of an onion), put in a can or two of drained chickpeas, some tomatoes, a cucumber, and some feta, salt, pepper, and about a tablespoon of red wine vinaigrette, and mix it all up. I'll eat this as a wrap with lettuce or pita, with pita chips, or straight out of the bowl with a fork if I'm feeling really lazy. The longer it has to sit and let the flavors meld in the refrigerator, the better.
7. Lentil Soup
Lentils are right up there with chickpeas in terms of ingredients I always buy for cheap dinner recipes. I start with the general outline of the French Lentil Soup from Epicurious, but leave out the celery and dial the onion back to only about a half a medium sized onion. I also usually add more carrots because I love carrots and always have a bag of TJ's Organic Carrots of Many Colors in my fridge. I skip the "transfer to a blender and puree" step of this recipe because I don't think it's necessary. And I skip the balsamic vinegar because I prefer it without that flavor.
8. Breakfast for Dinner
Breakfast for dinner is a classic cheap easy meal on a budget. Start with eggs, either sunny side up or scrambled, and add whatever you have in the fridge. I usually have some cheese around, so that goes in with the eggs. Once the eggs are done, I'll sometimes transfer them to a plate and heat up some soy chorizo in that same pan. The soy chorizo doesn't have to be cooked like meat does, so it just needs to be warmed through to eat, which is super convenient. If I have tortillas, I'll put the filling in those to eat this as breakfast tacos. If not, I'll just eat it smorgasbord-style.
9. Three Bean Chili
My household consists of only me and my husband, but this also makes a great cheap meal for large families. I start with Smitten Kitchen's Three Bean Chili, but instead of pinto beans (which I don't care for), I put in a can of chickpeas. I also leave out the cumin and coriander because I never have those spices around. I use cayenne if I don't have chipotles in adobo. Even though I completely butcher Deb's amazing recipe, no matter what version I make, this vegetarian chili is always a crowd pleaser. It also makes enough leftovers for two people to eat for days and days.
10. Soyrizo Open-Faced Sandwiches
Another great meal that features Trader Joe's Soy Chorizo is a Mexican-inspired open-faced sandwich. Put some olive oil in a skillet over medium heat, crack six eggs into it, and then add the soyrizo and cook for about 3 minutes, stirring continually. The eggs will kind of scramble, with the soyrizo and eggs becoming completely integrated. Then remove the mixture from heat and put it on whatever bread you have around. I usually buy ciabatta rolls or a French bread loaf for this and toast the bread a bit ahead of time for extra crunchiness. Add some shredded sharp cheddar on top, or some parmesan, zap it in the microwave or run under the broiler to make the cheese all melty. There: you have fancy, delicious open-faced sandwiches in about 15 minutes.
*****
All of these require at least a little bit of work and will dirty a pan or dish, but I like to make the effort to at least kind of cook a few nights a week. Some of these are healthier than others, but I figure that if I miss a serving of vegetables one night, that's what a daily multivitamin is for. We also eat a lot of leftovers, and take leftovers for lunch to work most days, too. Sticking to this strategy works well for us, and it means that when I do spend money on eating out, it feels really worth it and intentional instead of just a cheap dinner recipe I could make at home. What are some of your go-to weeknight meals?
For some great products, read 12 Beautiful & Practical Kitchen Basics To Get You Cooking More.
A grant writer by day and personal finance fanatic by night, Marisa is an avid traveler who lives in Pittsburgh, PA. When she's not reading or writing for work or play, she enjoys running, thrifting, and searching for the most authentic Mexican food in the city.
Image via Unsplash
Like this story? Follow The Financial Diet on Facebook, Instagram, and Twitter for daily tips and inspiration, and sign up for our email newsletter here.