An Ode To All The Going-Out Clothes I've Wasted Money On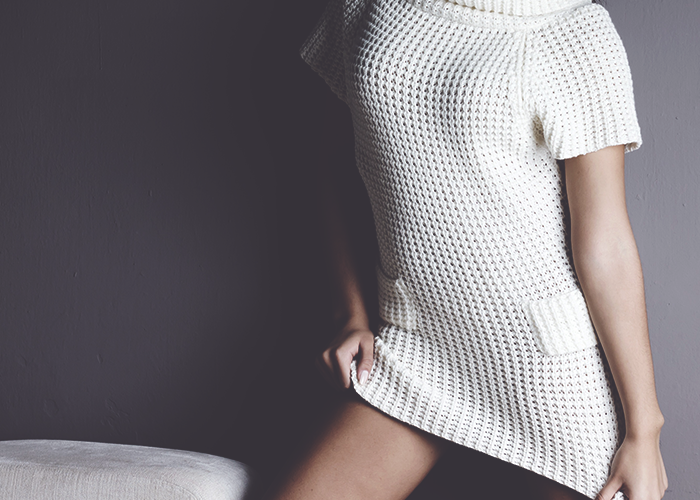 If you scrolled through the inbox of my Motorola Krzr circa 2010, you'd find a large number of texts that revolved around one question: "What are you wearing out tonight?" I'm fairly certain a requirement of being a girl in your early twenties is that you have to be dragged into a group chat centered on this dilemma at least five times.
All that energy poured into arranging myself to be party-ready only ever upped the stakes of whatever I was prepping for. A run-of-the-mill night out became an opportunity to become a more daring/sexy/fun person, or at least summon a bit of excitement into my life. And, in my mind, buying brand new clothes optimized that opportunity. One of the many totally-adequate black tank tops or skirts that sat in my closet wouldn't suffice; every weekend, I had an urge for a fresh start that only a new ~going out lewk~ could provide. With the help of the right cutout blouse, I truly believed magical things could happen. (Spoiler: the universe doesn't work that way.)
As you can probably guess, this kind of logic resulted in a lot of emotionally-fueled fast fashion purchases. If a tailored button down is the epitome of utilitarian, versatile attire, my going out clothes were the opposite. Ill-fitting and poorly-made, they hardly fit in with my personal style (outside of the version of myself I was trying to be on that night), let alone in a workplace or family setting. All those flimsy dresses and too-sheer tops did the job for a night or two, but their usefulness stopped there. They ended up sitting in my closet and gathering dust, looking increasingly more like out-of-place relics as I got older.
In an effort to curate a more grown-ass-woman wardrobe (still working on it!), I recently did a vicious closet clean-out and came across a few of those relics. As I folded them up for donation, part of me wanted to shake my past self by the shoulders — I obviously should have bought less, but more than that, I should have bought smarter. I'm not past buying a snazzy new shirt for a special occasion these days, but I'd like to think I'm more judicious (Can I wear this shirt outside of a grimy, dimly-lit bar?). Another part of me couldn't help but get a little sentimental. As a compromise to both those parts of my brain, I'm saying a nostalgia-filled goodbye to my going out clothes of days gone by, while owning up to the waste of cash they truly were. Here, I've assembled a typical outfit and added up the damage, keeping in mind that I re-bought variations of all of these pieces (plus a handful of spandex dresses and silky tank tops) too many times to count.
Fitted skirt, H&M, $12.99
Who among us did not own this, the holy grail of going-out skirts, at some point in our early adult lives? My favorite bodycon minis all had a Hervé Léger bandage look that was almost terrifyingly good at curve-enhancing. I went through loads of these — one met its demise after I sat on a wad of gum. Devastating.
Open knit tights, Forever 21, $6.90
I remember a distinct era in mid-2010 when, while living with five other girls, there were so many open-knit tights lying around you'd think we were housing an entire burlesque dance corps. $6.90 may not seem like a lot, but consider the following: how paper-thin these babies were, and how (not) careful I was while wearing them. I usually ended up giving up and embracing the runs in my tights, even deliberately adding to them in an effort to look disheveled and Effie Stonem-y. The longest any given pair lived would be about a month, if I was lucky.
Cotton spandex Double V bodysuit, American Apparel, $38
It physically pains me to think about the number of skintight bodysuits I bought, thinking I'd be the kind of person comfortable with baring my sternum for hours on end (granted, for the first half hour of wearing a plunging neckline like this, I felt unstoppable). Certain bodysuits are functional and save you a good chunk of your life otherwise spent adjusting your shirt and fearing a wardrobe malfunction. This is not one of those bodysuits.
Studded wallet crossbody bag, Zara, $19.90
A good going-out bag should be a few things: small, so it doesn't throw your back out while you're dancing; relatively sealable, so your stuff doesn't go spilling out while you stumble around; most importantly, not so expensive that you'd be distraught if it went missing. The downside of a cheap bag is that it shows wear and tear at light speed.
Ankle boots, Call It Spring, $69.99
I owned a pair of ankle boots identical to these during my semester abroad (yes, this is one of those stories) and wore them, without fail, every time I went out. By the end of my semester, they were in such a state — drenched in spilled drinks, coming apart at the soles, tattered beyond repair — that after leaving a bar, I just chucked them in a dumpster and walked home barefoot. They weren't the first or last pair of their kind.
Faux leather moto jacket, Forever 21, $37.90
Obnoxiously squeaky, very obviously fake leather jackets were essential to my nighttime wardrobe when I was at school. I had one that managed to stay intact longer than the others that I was convinced brought good luck to its wearer (a friend of mine met her current boyfriend while wearing it one fall night in 2009). I lost track of it a few years later and it's still missing to this day. I hope, wherever it went, that it has a good life.
Grand total for a typical going-out ensemble: $185.68
Image via Pexels
Erin is a fashion, beauty, and culture writer based in Toronto. She maintains an impressive collection of stealthily-taken dog pictures on her phone, owns five shades of red lipstick but only wears one, and is gifted at making mac and cheese.