Recipes & Hauls
Take Your Weekend To Dangerous Levels Of Autumn With This TFD Cocktail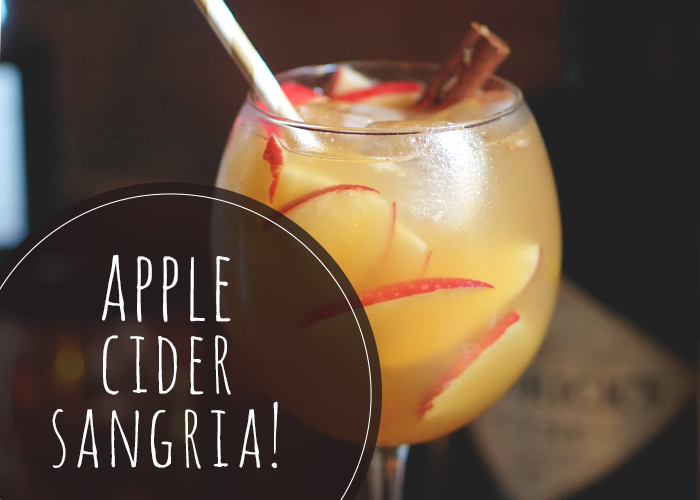 You guys, it's October. There are so many incredible things about October — and between it being prime cape weather, watching the leaves turn, and all things Halloween, it's hard to pick a favorite — but one of mine is definitely seasonal cocktails. And while I do love myself some pumpkin things, when it comes to a hard drink, nothing beats the delectably fall combination of bourbon and apple (with some key fall spices mixed in, of course).
Lauren and I knew that we'd have to create a cool fall cocktail for TFD, and came upon the idea of making an apple cider sangria. Yes, really, a sangria made of apple cider (and all the other incredible sangria things, of course). But it's a great drink for a transitional day, and the day we made this wasn't warm by any means but it wasn't yet hot/mulled cocktail weather. You wanted something refreshing and easy to drink, but with all those lovely fall flavors and the giddy delight that comes with stirring your drink with a cinnamon stick.
We made this drink for an evening of cards and the Amanda Knox documentary with Lauren, Holly, and I, and I can confirm that this drink was the culinary highlight of an evening that also included several delicious pizzas. Whip up a pitcher of this for your next movie night, fall dinner party, halloween celebration, or fancy dinner at home. I guarantee whoever you serve it to will feel impressed & autumnal.
TFD's Apple Cider Sangria
Prep time: 10 Minutes + Resting time of at least 2 hours
Makes: 6 glasses
You will need:
-1 bottle decently-good dry white wine, such as Pinot Grigio or Sauvignon Blanc
-1 cup bourbon
-1.5 cups good apple cider
-.5 cup orange juice
-1 apple (something very fall-y, like honeycrisp)
-1 pear
-2 tblsp dark brown sugar
-1 tsp cinnamon
-.5 tsp allspice
-.5 tsp nutmeg
-1 bottle seltzer
To make, simply slice your apple & pear and chop the slices into half-slices, putting them at the bottom of a large pitcher or other sangria-making vehicle. Add your spices, brown sugar, bourbon, and OJ, stirring until thoroughly combined and dissolved as possible.
Add your wine and apple cider, stirring again to thoroughly combine. Let the sangria soak and combine in your fridge for at least two hours, until ready to serve.
To serve, fill your glass of choice halfway with the sangria and some of its lovely fruit (fruit which is also incidentally delicious on ice cream!), topping with ice and a splash of seltzer. Serve with an adorable straw and cinnaomon stick, if available.
Enjoy, and prepare to be punched in the face by a delicious glass of autumn!