3 Ways To Make Your Leftovers Taste Just As Good The Next Day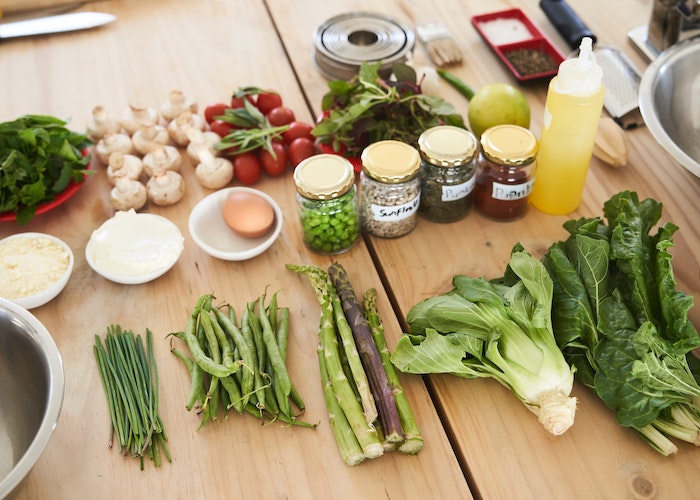 As an avid meal-prepper pre-pandemic, I am extremely familiar with leftovers. Even though I don't need to meal-prep anymore, I still find it easier to batch-cook a meal for the week. Moreover, one of the upsides to working from home all the time has been finding creative ways to repurpose these leftovers — a perk I didn't have in the office!
Here are a few of my hacks for sprucing up leftovers and finding ways to be excited about eating the same meal, even if it's Day 2 (or even 3)!
Fresh Toppings: Eggs, Hot Sauce, or Cheese
The majority of the meals I prep tend to be Asian-inspired cuisine. I find it easy to quickly put together fried rice, Pad Thai, or a South Asian rice dish like biriyani or pulao. While these warm dishes are comfort food on Day 1, they can quickly become stale by Day 2 or 3. As such, I often add a warm, fried egg or a hard-boiled egg to accompany these meals — adding a fresh egg to the meal instantly makes it new and exciting, all over again.  
Other toppings I love are flavored hot sauces and various other dressings. Whether it's classic Tobasco or sriracha or even chili garlic sauce, my fridge is a treasure trove of sauces. Whether it's my go-to Asian meals mentioned above, or a burrito bowl, which is always a staple in my diet, hot sauce quickly elevates these dishes. Even if I'm re-heating pasta or ravioli, I usually add Trader Joe's Italian Bomba Hot Pepper Sauce. Stores like Trader Joe's often have a plethora of spicy sauces which are perfect to add to any dish; their spicy cilantro Zhoug Sauce is one I add to Mediterranean dishes, like falafel, and I strongly suspect the store has a sauce for any dish you may make. 
Finally, I always add fresh cheese to dishes, where appropriate. When I cook pasta or ravioli, I don't add cheese to the entire dish. Instead, for leftovers, I'll grate fresh cheese on top since that always helps to spruce up the meal. Sometimes, I even add cheese as a quick appetizer to a meal composed of leftovers. I've become obsessed with cheese boards and having a small platter of fresh cheese and crackers before a meal that I've had previously makes it seem a little fancier and a lot tastier. 
Switch Up the Base: Quinoa, Rice, Farro, Cauliflower Rice, Salad, etc.
For dishes without a rice or noodle base already, I recommend switching up the bases for leftover meals. I often batch-cook an entrée, such as chicken teriyaki or ground turkey keema. I'll then switch out the base of these entrees when I have them, again, as leftovers. The change in textures, from quinoa to rice to farro, or the addition of healthier bases like cauliflower rice or a salad, often changes the taste of the meal and, for me, makes it feel like I'm eating an entirely new dish. What's more, I often get tired of eating, for instance, a rice-based or noodle-based dishes all week. As such, this hack allows me to switch it up and, surprisingly, sucha. small changes makes a huge difference!
Thoughtful Sides: A Drink or Dessert
Finally, I love to add a thoughtful side to a leftover meal. Whether it be pairing my dish with a glass of wine for dinner, or indulging in a decadent cup of chai with my lunch, or even making a smoothie or juice as an accompaniment, I try to channel my inner-chef and consider the palette of my meal when making these drink or dessert choices. Taking that time to make a little something extra and consider how it will pair with my leftovers helps make it feel like more than just a simple dish I reheated in the microwave. 
I also love to bake, so while I love to douse my meals in hot sauce, I also have a sweet tooth that emerges, as well. Because of that, I'll often treat myself to a warm dessert after leftovers. The easiest way to do this is by batch-prepping cookie dough of your choice and freezing it so that you can preheat the oven and pop in 2-3 at a time, whenever you want. I'll usually preheat the oven while I heat up my meal and add the cookies in as I eat so that by the time I finish, the cookies can be brought out to cool. I then finish up the rest of my "chores," like dishes, and can sit down to enjoy this warm dessert, after. 
Other desserts I recommend are ice cream (always!), a cake or sweet loaf if you enjoy baking and don't mind spending the time over the weekend, or a few Trader Joe's desserts after a meal. I particularly love the chocolate-covered almonds or the chocolate-covered pretzels, but their seasonal sweets, like the pumpkin Danish, are also a perfect accompaniment. 
***Bonus Hack: You can also spruce up any leftover by re-heating them on the stove or in the oven, as opposed to in the microwave.
I hope this has given everyone a few new techniques for sprucing up their leftovers! I'm a huge fan of batch-prepping beforehand, so these hacks have saved me more than once. 
Keertana Anandraj is a recent college grad living in San Francisco. When she isn't conducting international macroeconomic research at her day job, you can find her in the spin room or planning her next adventure.
Image via Unsplash
Like this story? Follow The Financial Diet on Facebook, Instagram, and Twitter for daily tips and inspiration, and sign up for our email newsletter here.