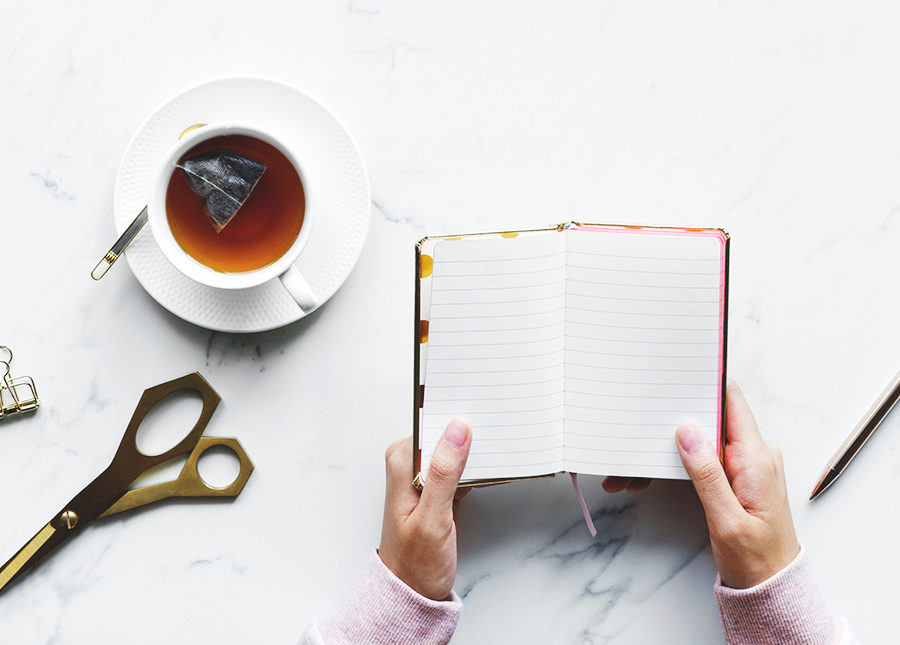 Listen — it's summer. I get it. I don't even like hot weather, but there's something about it that makes me extremely unmotivated to get anything productive done. Why would I revise my budget when I could just make a blueberry pie and sulk in front of the air conditioner for three hours? Who needs to go to the post office when you can just indulge in yet another bland superhero movie in a freezing-cold movie theater? Is the bank even open in the summer?
But every year, this mindset comes back to bite me. Summers quickly and all-too-easily fill up with plans after plans, and all of a sudden, I'm sipping a PSL and wishing I could actually wear a sweater — and realizing I have a lot of shit to catch up on that I spent the past three months putting off. I don't know about you, but even though I spend every January making productive plans for the rest of my year, June-August becomes my annual getting-shit-done blindspot.
I've realized that the only way I'm personally going to catch up with my life-housekeeping in my, let's say, slower months is to make a big list and get a bunch out of the way at once. And while these kinds of things may be more than annoying to make yourself do, they're not actually that hard once you finally do them. The following things are either currently on my life housekeeping to-do list, or they were at one point. It took me forever to work up the energy to do a lot of them, but when I finally did, I felt silly having put off something that took me such little time. So either this weekend or another one you're free this summer, I highly encourage you to use this as a guide and make your to-do list — and then feel like the most put-together badass for doing so.
1. Make your Christmas/holiday budget. I know it seems insanely early to be thinking about gift-giving, but the earlier in the year you start worrying about it, the less stressful it feels come December. Just make a preliminary list of who you need/want to buy presents for (if that's a thing you do), and include how much you're planning to spend for each. You don't even need to map out the specific gift ideas right now — just ballparking how much you need to save over the next six months will be a great step for your own peace of mind.
2. Open up an online savings account if you don't already have one. We definitely recommend keeping your savings, like an emergency fund, separate from your day-to-day spending money — you're much less likely to accidentally spend it if it's out of sight. Plus, there are plenty of savings accounts that have higher interest rates than your standard checking. I use Ally and I love it!
3. Register to vote. I know a lot of states make this so much more difficult than it should be, and that sucks. (New York state and I have been in a fight about this for like the last four years.) But if you haven't registered to vote, seriously, stop putting it off. You should be able to at least locate the right forms online, and even if that's all you do on this weekend journey, it's a step in the right direction!
4. Update your resume. If you don't remember the last time you did this, it's extremely time to take it on (because honestly, you never know when you're going to need it). Even if you've been in the same job for forever, chances are, your duties have evolved. I like to keep a running list of my general responsibilities on a digital sticky note so that updating my resume takes just a few minutes every quarter or so.
5. Cancel any subscriptions you're not using. We say this all the time, but…have you actually done it? I recently tallied up my subscription services and found out I was spending over $100 a month on them. Yikes! I wasn't willing to part with each one, but I did trim my total down to a more palatable $60ish.
6. Organize your inbox. Life is easier for me when emails get separated into the right folders, even if I never ever look at them again. A clear inbox always feels like a life achievement unlocked.
7. Set up a password manager. Differentiated, encrypted passwords are extremely important for keeping sensitive information and assets (like your bank account) safe — and they're a complete pain in the ass to set up. Unless you use a password manager, which makes it way easier. My boyfriend turned me onto LastPass, and while I have yet to get every single one of my passwords on there, I can already tell it's user-friendly and a great resource, and my accounts feel a lot safer.
8. Clean out your phone apps. Not only do you probably have way more apps than you actually use cluttering up your phone (guilty tbh), they also might be sucking up more of your data than you realize — and costing you money. Give your phone a little audit this weekend, and delete all the apps that aren't serving you. Chances are, you'll forget you even had them in the first place.
9. Make a checkup appointment. Or whatever medical appointment you've been putting off. I'm personally much better at remembering to set up my primary care checkups than my dental cleanings, so making an appointment with the dentist is always first on my list of housekeeping to-dos I've been putting off.
10. Back up your photos and/or contacts. I don't trust The Cloud, whatever that is, so I have to frequently remind myself to back up my photos and contacts, lest I lose them in an unfortunate phone-dropping accident (stranger things have happened). If you don't already back your phone up regularly, add it to your list!
11. Pick one drawer or shelf to clean out. No, you don't need to tackle your entire closet this weekend, but when was the last time you sifted through your sock drawer? You probably have a lot more lonely, ratty single socks floating around than you realize, or else you're a hell of a lot more put together than I am. Regardless, pick one smaller section of your living space to take on this weekend, and clean it out completely. You'll feel immediately lighter.
12. Stash some reusable shopping bags in your backpack or briefcase. This is one of those things that makes me feel extremely on top of my shit when I actually remember to do it. We all know how much better it is for the environment to use reusable bags instead of choosing between paper and plastic, so keeping a stash in your day-to-day bag means you're always ready for a pit stop at the grocery or summertime farmer's market.
What else is on your summer housekeeping to-do list? Let me know in the comments!
Image via Unsplash