How I've Spent $2,000 On 89 Items To Overhaul My Wardrobe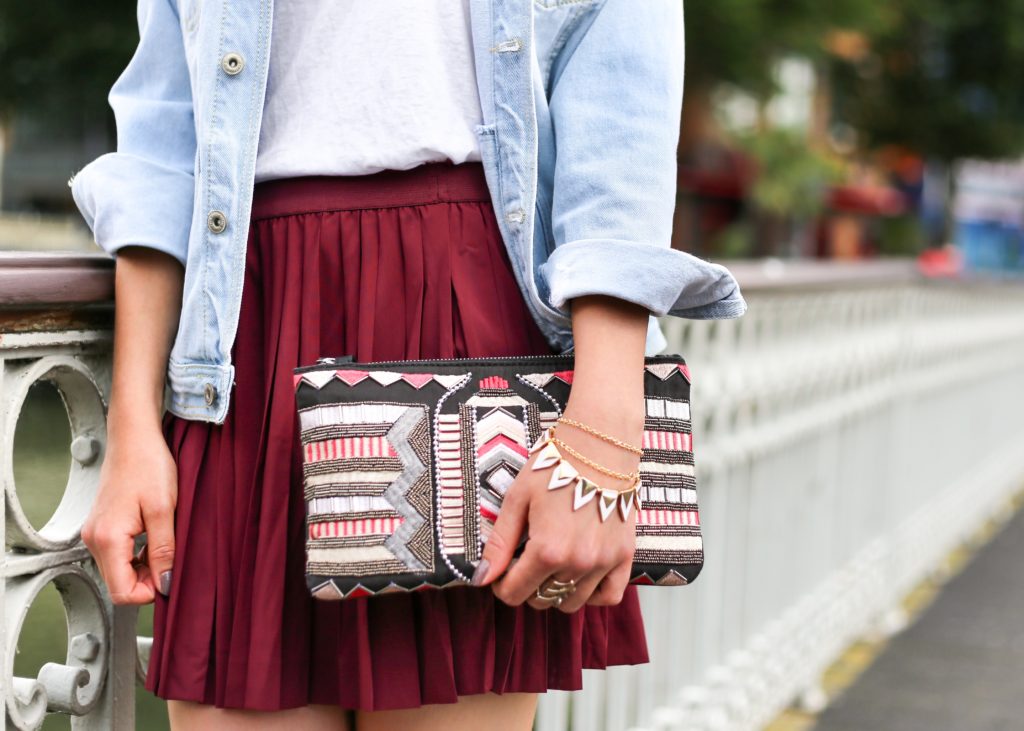 In 2013, I got my first "grown-up" job. I was contracted through a temp agency to work as an executive assistant for a security firm. I needed a proper wardrobe — I was still lugging around things from high school and none of it was even close to acceptable workwear. I didn't know anything about clothes, and I knew even less about what my "personal style" was. I started researching capsule wardrobes, spending a lot of time in the mirror comparing color chips on a paint wheel (I'm an interior design hobbyist) up to my face to pick staple colors. Initially, and for a long time after, I had to pick and choose my purchases very wisely due to money being tight. But eventually, that became a hobby on its own.
I had always shopped at thrift stores when I was a child & teen because my family was low-income (enough to be on food stamps), and besides, secondhand clothes are good for the economy and the environment! The habit never really wore off, so consignment was the first place I went. I scoped out my local thrift stores and figured out what days were good, made an email specifically to receive promotional sales emails from retailers, and started writing down all the deals I scored.
My go-to clothes shopping rules
Soon after starting, I decided to give myself ground rules to make sure that I absolutely needed and would definitely wear whatever piece I was buying.
If I don't immediately start fantasizing about pieces I already own to wear it with, then #nobuy

No leather/fake leather on clothes

No fringe/tassels/ruffles or excessively baggy pieces

No lace

No prints

No patterns (okay I broke this to buy exactly 2 striped pieces)

No loud/visible logos

No v necks

SKIRTS NEED POCKETS

Colors allowed: Black, white, gray, navy, cornflower blue, dark green, dark red
There are a few more nitpicky "no no's" I have that are hyper-specific, but don't always apply.
Breaking down my wardrobe overhaul cost
From when I started in 2012 until today in 2019, I have spent (approximately) $1,961 USD. This total excludes some pieces that I no longer have, only because I sold almost all my unwanted clothes for near what I paid. This total also excludes sports/ballet gear & clothes, as well as my lazy potato day clothes, as they weren't part of the wardrobe rebuild project. This total includes all tops, bottoms, intimates, outerwear, accessories, and formalwear that I bought as part of my wardrobe rebuild.
A few memorable moments of my wardrobe journey:
Finding a secondhand rabbit coat at a San Diego Goodwill for a paltry $15

Sewing gold buttons onto a $35 H&M dress to copy an iconic Alexander McQueen dress 
My first cashmere sweater, a navy J Crew turtleneck 

Finding a glamorous sequined 1980s jumpsuit in a tiny town in Virginia
Approximately what I've spent on each category of clothing during my wardrobe overhaul:
Hats, gloves, scarves, umbrella, bags – $196

Slacks, shorts, leggings, skirts – $165

Dresses (cocktail & work) – $276

Formalwear – $185

Furs (I was gifted a number of furs, so I bought less) – $66

Bras, socks, underwear, lingerie – $330

Blazers, coats, jackets – $205

Shoes – $255

Tanks, sweaters, blouses – $233
Brands I shop & what I look for
I want to talk a little bit about what brands I came to rely on and what quality I try to look for. One of the first pieces I got was a work dress from Saks 5th I found on a clearance rack. It was about $120, and I'd never spent so much in my life, but I had gift money I'd been saving. I still wound up feeling a little cheated for the price, so I started looking for a similar quality in other designers and shops that were more affordable:
Clothes with a lining

. Dresses, blazers, even slacks felt and fit better with a lining. The pieces with one definitely had a more sophisticated, streamlined look that I was going for rather than looser. It also helped avoid minor tailoring!

Stitching. Fast fashion brands, and even many outlet stores, make pieces with weak, flimsy stitching that inevitably fall apart in the wash. This is another place the liner comes into play, giving the thread more to grab on to. If you've ever sewn, you know much harder it is to rip stitches out of multiple layers of fabric than just one or two! High-quality clothing will have complex and/or tight stitches.
Darting.

Instead of simply having a front and back, pieces that are darted give more in the usual problem areas like shoulders and underarms, without being baggy to compensate for it. I found I had way more movement in a dress once I had it tailored to add darts.

Invisible zippers. They're less likely to snag on things and less likely to split at the teeth since they're so narrow. They can be challenging for individuals with physical difficulties, though — I frequently have to have my husband help me with them.
Seasonal materials

. Early on, I made the mistake of trying to wear the same clothes all year around. Save wool, cashmere, and heavy viscose for cooler months and rely on silk & linen for warmer months.
Despite its many cheap rush pieces, H&M has a reliable, affordable business/business casual selection. Almost all of my pencil skirts and all of my blazers are from there and have lasted since 2014 still looking like new, despite being worn routinely. I also rely on them for their Basics line — undershirts, underwear, and socks.
The Limited, while no longer a brick-and-mortar business, still sells online – I've had the same pairs of slacks from them since 2013, and they haven't even faded.
J. Crew has solidly structured slacks as well, and while new they run $80-$100, you can find them on eBay for ¼ of that price, which is how a friend got theirs. Both The Limited and J. Crew also have durable, multi-weather friendly shorts.
Banana Republic has a line of non-iron wrinkle-resistant button downs that I swear by to anyone who will listen. They're tailored in fit, so they even work for larger busts without straining buttons and puckering the fabric. I spent between $3-$16 for them on consignment, compared to $50-$70 new.
Aldo carries bags and accessories. When my Express bag finally gave way in 2015 (after carrying many textbooks), I bought an almost identical one from Aldo and it still hasn't given up its structural integrity.
Other shops, like Macy's and JCPenney, were the source of multi-markdown pieces. I had a whole process down. Every month or so, I would browse department stores and look for pieces I liked. Usually, everything was way overpriced, but major department stores let you create app accounts to log favorite items. I would save them, wait for them to go on sale (yay push notifications!), and then sometimes be lucky enough to apply a promo code from a site like Honey, *Wikibuy, or RetailMeNot.
*Wikibuy compensates us when you sign up for Wikibuy using the links provided.
Tallying & tracking my wardrobe progress
According to my Excel chart, this $1,911 includes 89 pieces in total. Six years ago, I was constantly lamenting how I never had any clothes to wear (that I liked) and thanking fate that my roommate loaned me clothes while I was waiting for my first check. Today, I only have a few pieces left that I want to get.
The best thing to come out of my wardrobe reconstruction was I finally developed a personal style. Over the years, my work wardrobe kept growing and I increasingly wore my "adult" clothes around the house and out for simple errands. Now I love dressing up and am currently experimenting with capsule makeup. Now, my confliction over what to wear is only because I dearly treasure each and every piece I've bought.
Adriana is an executive assistant turned lady of leisure in Philadelphia. Find her on Twitter & Instagram.
Image via Unsplash
Like this story? Follow The Financial Diet on Facebook, Instagram, and Twitter for daily tips and inspiration, and sign up for our email newsletter here.