10 Items That Are Just As Easy To Buy Local As They Are At A Big Box Store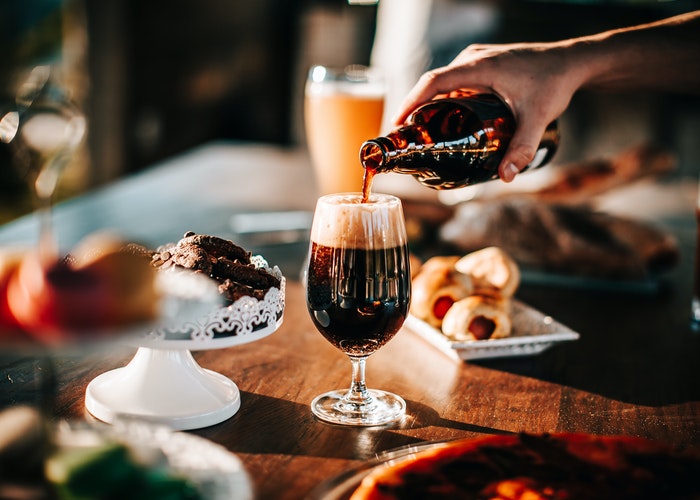 In January, I vowed to spend my money more intentionally. And part of that meant shopping at small businesses for planned purchases and reducing my reliance on big box stores. 
To kick things off, I started following more local and small businesses on Instagram. In March, due to COVID-19, my city (Ottawa, Canada) declared a state of emergency and ordered all non-essential businesses to close their doors. Grocery stores sold out of baking supplies and inflated their meat prices. At liquor and beer stores, shelves were empty. Grocery and Walmart deliveries had wait times upwards of two weeks. Prime Minister Justin Trudeau asked us to stay home as much as possible and limit trips outside of the house. 
As a result of all of this, I've come to realize that, aside from ordering UberEats, I can do more to support local businesses while still adhering to our stay at home orders. Here's a list of things you can typically order from local businesses from the comfort of your couch.
Craft Beer
There has been a significant increase in the number of craft breweries opening up in Ontario, with most serving light snacks and rotating their beers on a regular basis. This is true in other places, too.  In order to keep their employees on payroll, many craft breweries have adopted beer deliveries for a minimum order. Not only does this mean your dollars are going straight to the brewers and support staff, but it also means trying out new breweries and types of beer. Bonus points if you create your own brewery tours and tasting flights at home.
Coffee
With everyone working from home and many coffee shops closing, frequenting those small, 10-table coffee shops to get a change of scenery is no longer an option. Let's also be honest: Cans of Tim Horton's coffee just isn't the same as the fresh beans I'd get from farmer's markets. Coffee roasters have started to offer delivery of their beans right to your door. Not only is this a way more cost-effective option than Starbucks, but the smell of freshly ground beans each is a great way to start the day. Check your favorite neighborhood cafe and see if they're delivering.
Flour & Baking Supplies
During the first week of quarantine, my boyfriend decided he wanted to try to bake his own bread for the first time. Having never used yeast before, we embarked on a baking adventure. Fast forward two weeks and the whole continent is baking their own banana bread and comparing sourdough recipes. Our grocery stores have been sold out of flour for weeks. In fact, my neighborhood even started its own Facebook group to discuss which grocery stores had baking supplies each day! Scrolling through my Instagram feed I realized I was following a local mill that was making deliveries of flour, sugar, and yeast each week (and selling out the same days as restocks)! Search flour mills in your city and see what pops up. Bonus points if your local mill also delivers maple syrup to sweeten your baking.
Produce
Last year my parents and I signed up for community-supported agriculture (CSA) weekly produce box. For a fraction of what we would spend in stores, each week we got an assortment of in-season vegetables and fruits from local farmers. We were exposed to new fruits and vegetables which forced us to try new recipes and expand our cooking repertoire (haskap tarts and kohlrabi salad were definite standouts). Check out TFD's primer on how to sign up for a CSA here.
Meats
If there's one thing I miss about farmer's markets, it's fresh fish. Buying frozen from Costco hasn't been the same as picking out filets from a fish counter. Then I discovered that my favourite local fish restaurant was keeping their fish counter open and offering curb-side pick-up and delivery of their meats including full lobster dinner fixings! In Toronto, some higher-end restaurants have even started connecting their customers directly with their meat suppliers. Wherever your city, there's a good chance that some of your favorite local spots are offering meat and seafood delivery. Head to their websites or Instagram pages and find out!
Craft Supplies
Confession: Shopping locally for craft supplies isn't something new to me. My name is Kelsea, and I'm a yarn hoarder. I make it a point to visit yarn stores everywhere I travel (Yes, I flew a suitcase stuffed with wool back from Australia last year). Though Michaels is offering curbside pickups here, popular craft supplies like embroidery hoops and floss are on backorder. Smaller stores have been offering local deliveries and discounts since quarantine has started. Many of these stores make it a point to stock local dyers, suppliers, and pattern makers. Spring is a popular season for craft markets and a key time for vendors. Some of these markets have moved online, where you can view and order handmade items or supplies right to your home. Etsy is also a fab place to source patterns, craft kits, or paint-by-numbers canvases. 
Prescriptions
My pharmacist has been a beacon of hope over the past eighteen months: I'm currently taking nine prescriptions on a regular basis, with dosages changing every couple of weeks. Besides saving on expensive dispensing fees, using a smaller, local pharmacist means the staff knows who I am, what prescriptions I'm taking, and even when I'm running low. Before quarantining my pharmacist would call or text me regularly to remind me when I needed refills or to proactively contact my doctors for a new script. Now that we're in quarantine, my pharmacist is delivering prescriptions right to my door. Similarly, my optometrist is now delivering contact lens orders direct to patients.
Bath & Body Products and Candles
I can't be the only one who suddenly feels like facemasks and candlelit bubble baths are an even more essential part of weekly self-care. I also miss perusing the candle aisle at Homesense for deals. Instead of holding out for the Sephora spring sale, or The Body Shop's buy three get three free emails, try ordering from vendors on Etsy or in local shops. Instagram is a great place to source local makers. These products are usually cleaner, are made with more natural ingredients, and use less plastic and packaging. Your dollars will go directly to makers instead of multimillion-dollar corporations.
Plants
I have been itching to get into a greenhouse to expand my plant collection all winter. Unfortunately, it doesn't look like that will be happening anytime soon. So I've started an indoor vegetable garden (it's seriously easy, just plant seeds from the produce you're already eating), propagated all my current plant babies, and made my wish list of plants based on Instagram posts from my favorite local shops. 
Gardening is good for your mental health, plants clean your air, and eating your homegrown produce just feels so satisfying. I was so happy to see local stores expanding their services to offer plant delivery – some are even offering surprise boxes at varying price points. Why not use the start of spring to work on your green thumb?
Books
Last year, I read 99 books. This year I'm trying to read at least one a week. As much as I can, I pre-order books to support authors, but this can be an expensive endeavor. I frequent thrift stores and used bookstores to fill my shelves. Many people are sharing their recent reading recommendations all over social media, so why not sign up for a library card to have these books delivered to your door (or e-reader) for free. Used bookstores are even offering surprise boxes curated specifically for your interests and delivered to your door.
*****
There have been almost no barriers in adjusting my consumer habits to shop locally. If anything, I feel much better about the money I am spending because I know it's going to directly support local businesses. I'm also saving time waiting in long lines and reducing the need to enter stores by having items delivered directly to my door. Our current pandemic climate has only reinforced my intention of spending more mindfully, and I am quickly developing – and sharing – a habit of shopping locally.
Kelsea is a reality TV junkie and recovering overachiever from Canada with an affinity for knitting. You can follow her plight to save struggling plant parents on Instagram by following @kelseaknits.
Image via Pexels
Like this story? Follow The Financial Diet on Facebook, Instagram, and Twitter for daily tips and inspiration, and sign up for our email newsletter here.