5 Steps I Used To Ditch The Leggings & Build A Grown-Up Wardrobe I Love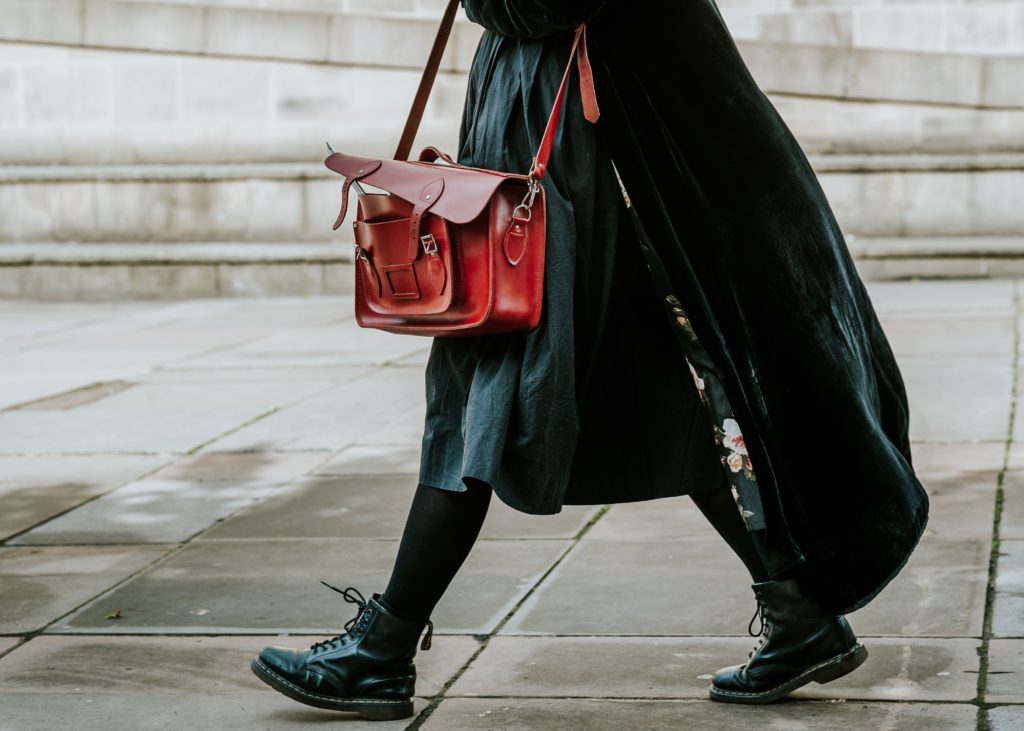 Fashion has never come easily to me. Growing up, I was fortunate to have a mother who made a hobby of stocking my closet with the latest trends. While I was never out of style, I also never really learned how to shop for myself.
Once I got to college, I slid into the easy lifestyle of black leggings and sorority shirts with the occasional weekend crop. Graduation came and went, and I continued living in stretchy pants and tops from 2012. All was well — until I got hired. I wish I could tell you that I went to the store, made a handful of smart purchases, and filled my closet with office-chic outfits that I still wear. But I didn't. No, instead I embarked on a long (and expensive) shopping spree which resulted in an embarrassing number of donated garments.
So to save you the trouble, here are the steps I wish I'd taken when I first started building my work wardrobe.
1. Experiment
The key to this phase is to keep your mind open and your wallet closed. It can be hard to leave your biases at the dressing room door, but if you've never worn wide legged dress pants, how can you know if you like them or not? Use this time to try on anything and everything. Pick wild patterns, crazy textures, and classic cuts. And remember, just because a certain style doesn't work for your coworker doesn't mean that it won't work for you. You'll likely be surprised to learn what flatters your body — and what doesn't.
I specifically remember shunning blousy tanks (like this) for years, assuming they'd make me look like a hot air balloon. It wasn't until I tucked one of those tanks into a pair of high waisted jeans that it all clicked into place and I discovered a new work wardrobe staple.
Tip: Take a trip to the mall! You can try out as many looks as you want without having to deal with online returns and a blow to your bank account. Bonus points if you leave your credit card at home!
2. Pick a Uniform
Just to be clear, I know that you're probably envisioning plaid skirts and ankle socks right now, and no, that's not what I'm talking about. The uniform is a concept that I didn't discover until a few months into my wardrobe revamp, and it was a total game changer. Picking a uniform is all about finding one single combination of clothing items that you feel comfortable and confident wearing. For me, this ended up being skinny jeans, a cute blouse, cardigan, and booties — but it can really be any mix of items. If you work in a formal setting, your uniform might consist of a sheath dress, cardigan, tights, and heels. Or, if your workplace is more casual, it could be skinny jeans, a cute tank, blazer, and mules — you get the idea.
Make sure to try out as many potential uniforms as possible before settling. This uniform will become the basis of your entire work wardrobe, so it's important that you love the shape and cut of these items. While you won't be locked into your uniform forever (that would be boring), it does serve as a good starting point for finding pieces of clothing that you'll actually wear and can mix and match.
Still confused? Sierra Schultzzie does a great job explaining the concept at minute 4:20 of this video.
Tip: Before committing to a uniform, give it a test drive. I often find that my feelings about certain outfits tend to shift once I get into the office. You can likely find a week's of outfits hidden in the depths of your closet, or at the closet thrift shop.
3. Buy The Basics
Finally, the part we've all been waiting for — shopping! Because you took the time to test out your preferences, and have settled on a uniform that you feel good about, you can confidently begin shopping for basics. What are basics, you might ask? For me, the term "basics" includes jeans and layering tops. These are the pieces that I can mix and match on a daily basis, and that make up the "base" of my outfit.
Because you're going to be wearing these pieces regularly, it's important to choose items that fit correctly. For example, if you know that fitted t's are a part of your uniform, take the time to find the t-shirt that fits just right, rather than settling for a style that you feel "meh" about. This is a piece of advice that I did not heed when I first started hunting for basics, and it has resulted in me purchasing more t-shirts than I know what to do with. Over time, I've discovered that crewnecks and oversized t's tend to make me look frumpy, while a nice, fitted v (this is my favorite) flatters my shape and cleans up my look.
Common basics include:
Tip: I've found that you can save a lot of money when shopping for basics. If your uniform involves layering, it's totally fine to go with the cheaper underlayer.
4. Add Finishing Pieces
Your finishing pieces are the items that really pull your look together. These are your blazers, cardigans, and jackets. Unlike with basics, your finishing pieces should be high quality and the kind of items that will last for years (as long as you can afford them, of course). If you're going to invest money into your wardrobe, this is where you should do it, in my opinion. That being said, you don't have to spend a ton of money on these items — especially if you're on a tight budget!
The wonderful thing about work clothes is that the styles don't change all that much from year to year. When I was looking for my finishing pieces, I started my hunt at the thrift shops in the bougie part of town. Rather than being littered with balled up sweaters and crop tops, these shops were bursting with exactly what I needed — chic work wear. I found most of my finishing pieces for under $20 each from brands that I otherwise wouldn't have been able to afford. Say what you will about shopping second-hand, but there's something to be said for a bargain blazer that fits like it was made for you.
Another great place to check for finishing pieces is second-hand websites like Poshmark and ThreadUp. While they can be intimidating if you don't know what you're looking for, both are great for buying specific pieces.
I specifically remember falling in love with this open drape jacket. Because I have wide shoulders, I tend to have a hard time finding jackets that I can actually move my arms in (which is problematic when you sit at a keyboard all day). So when I found this super cute (and super stretchy) layer, I knew that I had to have it. Unfortunately, I didn't have an extra $90 to spare at the time. So, rather than giving up, I searched the brand on Poshmark, and lo and behold, I was greeted with around 20 options in pretty much every color. I ended up purchasing the same jacket in grey for $30 — one-third of the original price.
Tip: Choose finishing pieces that are in neutral colors. This way, you can switch out basics when you want to freshen things up without having to invest more money in nice pieces.
5. Accessorize
Accessories are a great way to spice up your closet and can add a lot of variety to an otherwise small wardrobe. You can think of these like the sprinkles on top of the cake; they're not necessary but they sure are fun — which is why they're at the end of the list. After you've finished putting together your basics and finishing pieces, start an accessory wishlist! For me, these are the things that I'm excited to collect over time but don't need to feel put together in the office.
Your wishlist can take the form of a Google doc, spreadsheet, or even a note in your phone. At the moment, I'm personally a big fan of airtable. When I find something that I reeeeally like, I make a new record with a picture of the item, the price, and a link to the item. Then, I categorize by season. This has helped me to stop making spur of the moment purchases, and visualize my long-term wardrobe goals.
Tip: If you're a crafty person, there's no shame in DIYing your jewelry. I decided that I couldn't justify paying $20+ for a dainty little necklace, so instead, I put that money toward a roll of thin chain, clasps, and pendants from Etsy.
*****
Building your work wardrobe is a journey, and while what worked for me might not work for you, I hope that these tips give you a good place to start. Happy shopping!
Madelyn is a copy and content writer living in Denver, Colorado. She loves her cat, dog, and coffee (just like every other writer out there), and wishes it was Christmas all year around.
Image via Unsplash
Like this story? Follow The Financial Diet on Facebook, Instagram, and Twitter for daily tips and inspiration, and sign up for our email newsletter here.