Everything I've Bought To Fix My Oily Skin Problems At 34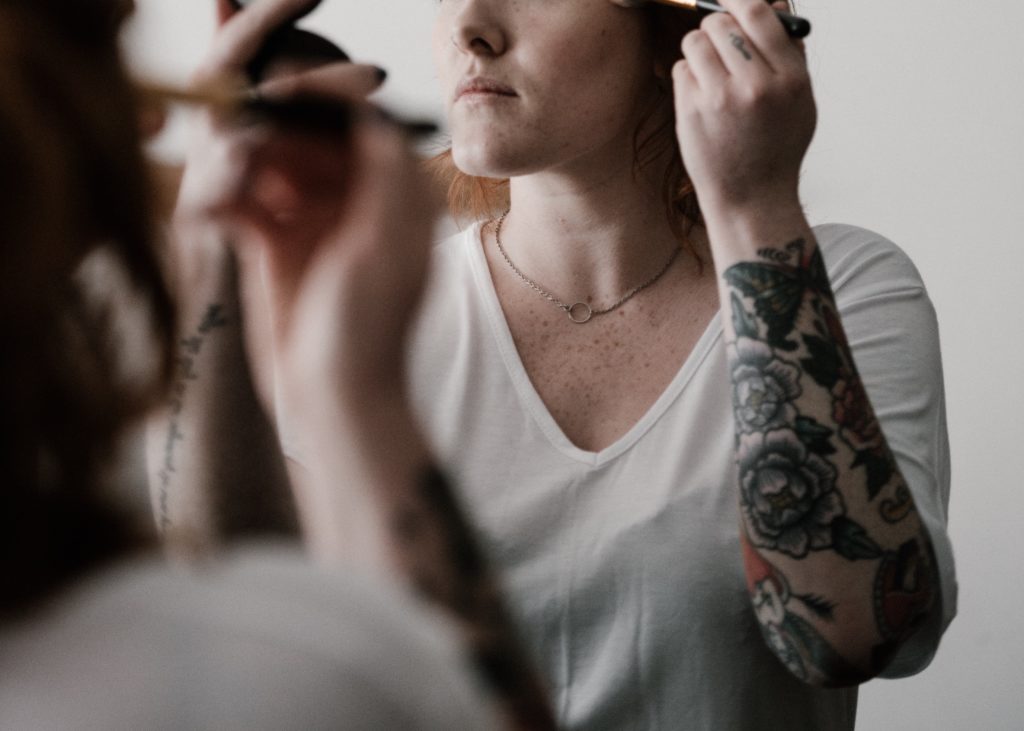 If you are tuned in to TFD's Making It Work video series, you'll know that Holly recently wrote an episode about her new skincare routine and the positive impact it has had on her life after just a few weeks (if you're more of a reader, you can also read her original piece here). Her revelations paralleled my own intentional skincare experiences to the point I just couldn't help but pitch her about sharing my own jOuRnEy.
To set the scene, I'm 34 years old, and my face has always been oily as hell. This is a year-round struggle for me that comes with enormous pores, unpredictable breakouts, dull, uneven skin tone, and the redness and dark spots that tend to accompany frequent blemishes. I've never been good at (nor particularly interested in, tbh) makeup, an effort made all the more frustrating by the fact that no matter what I have tried over the years, be it powder or one of the many varieties of liquid, my face would effectively "eat" whatever I put on it within a couple of hours. The natural oils would then act as a magnifying glass for the pores and fine lines that even the lightest, most oil-controlling products would sink into. Even my eyelids are oily, and they're heavily hooded to boot. They've never met an eyeshadow they can't crease or a liner they can't absorb, seemingly directly into my eyeballs only to be expelled in gelatinous globs at the corners of my eyes throughout the day.
The only makeup that doesn't seem to be affected by my face's ability to power a small car (if only someone could invent the technology to harvest the yield) is for brows and mascara. I can use a pencil and a tinted gel on my brows and ignore them for the rest of the day. I can sweep mascara onto my sparse, stumpy lashes and have few issues with flaking or smudging as long as I don't forget I'm wearing it and accidentally rub my eyes. Thus, when summer of 2018 came around and persisted for months with its stifling temperatures, rendering my already hot-natured body unable to simply exist without breaking into an alarming sweat, I stopped bothering with makeup except for these two quick things. There wasn't much point in it for me anyway, and existing in a perpetual state of dampness solidified the fact that I was only wasting my time with putting it on in the first place.
That miserable summer did eventually wind down, but I didn't resume my struggle with a makeup routine. I continued with brows and mascara on days I needed to venture out of the apartment, maybe swiping on a smudgy line of soft pencil liner or a light dusting of eyeshadow when I feel like making more of an effort that might be visible for approximately 30 minutes, but that's all. Since makeup was already more of a hindrance than a help to my skin, I didn't feel like I was really giving up anything. This was liberating from a time- and money-saving standpoint, yes. But my skin issues remained the same. Still oily, still dull, still uneven, still blemished.
No doubt, in part due to all of this, I've never been someone who actively seeks out her reflection. I tend to avoid mirrors, and if I do peek into the glass of a shiny storefront, I almost always keep my eyes below the shoulders, as my face is an inevitable disappointment. I don't say this to evoke pity or convey a lack of self-confidence. Conversely, my self-esteem is fine. I realize that nobody else really cares what I look like, and I acknowledge that my face is probably just fine in the eyes of most people who see it — the issue is purely personal. While society seems to have only two messages to convey to us: either that 1) our appearance is in dire need of fixing and we really should pull ourselves together, or 2) we simply must learn to love every inch of ourselves!!, I believe it's perfectly healthy to exist somewhere between those two extremes. No, we shouldn't actively despise our physical selves. But I also don't think there's anything wrong with not explicitly loving everything about the bodies we exist within. It's more realistic for me to aim for feelings of neutrality about this whole "my body" thing. Acceptance over embracement, I guess.
Why (and how) I finally embraced skincare:
But I wasn't keen on forcing myself to accept the state of my face. I was tired of years of pallid skin, tired of feeling confused as to why anyone would strive for a "dewy" or "glowy" look while those words only translated in my mind as a polite way of saying someone looks greasy. Rationally, I knew the only way to go about remedying my skincare woes was to do something beyond googling product reviews while standing in the aisle of the drugstore, and I knew I'd have more luck in sticking with a new routine if I focused on cultivating decent skin rather than figuring out makeup.
I was in Paris for a few days in January and, in a moment of true spontaneity about two hours before I had to head to the airport on my last morning, I walked into a Caudalie store. The brand hadn't been recommended to me by anyone and I'd never tried anything of theirs. I chose Caudalie purely because their Montmartre store was in front of me, I had enough brand awareness to know that their products aren't quite as pricey as many luxury skincare companies, and I knew items would be accessible where I live in Germany if I found something I liked. Pushing aside my feelings of beauty inadequacy, I walked in and basically said, "Hi, I have no idea what I'm doing, but my skin sucks and I'd like to change that."
Maybe it's a gimmick, I don't know, but the salesgirl who greeted me retrieved a handheld scanner that she pressed against my cheek several times, asked for my age, then turned her iPad towards me to display how my skin stacks up against an average comparable person in several categories. I didn't pay this a ton of mind as my primary concerns were clearing blemishes and improving brightness, but the report wasn't great. I began to grow anxious, sure that I would shortly be slathered in 52 different products, each presented with an intensive spiel on why it would become an imperative part of my skincare routine.
To my surprise, this didn't happen. Yes, she demonstrated a few products and explained the role that each could play were I to implement them, but there was no pressure to buy anything, no impatience as I hemmed and hawed over what was most likely to make a difference for me. I ended up buying just two products that morning, but she loaded me up with samples. That was key, because it's one particular sample that really sold me on this brand just a couple of days later.
I'll go into more detail about the specific products in a minute, but the sample I ended up loving so much was a night cream. This one took me by surprise because, with having such oily skin, night creams have long been at the very bottom of my list. I've barely given them a second thought because they tend to be heavy, ultra-moisturizing, and something I've always interpreted as being a recipe for a vicious breakout. I'm not even sure what inspired me to try it as I'm so skittish about new products on my face that I usually don't get excited over samples because I'm not likely to use them. But I went for it, and honestly, I noticed a difference in my skin the very next morning. It was…dare I say…glowy? But like, not in the way that meant pools of grease on my face? Weird. I looked smoother and more refreshed than I had in ages, and I really had to talk myself off the ledge because I was ready to rush into a long-term commitment with this brand, and we'd only just met.
Knowing myself and my skin well enough to be conscious of the fact that not only did my face need enough time to get used to the new products before I could fairly declare them as "good," *I* needed enough time to see if the novelty would wear off and I'd fall back into feeling like my twice-daily face-washing routine was an arduous chore rather than this oddly fun, rewarding process it had become in the early throes of Caudalie bliss. I reined in my excitement for a few days to see if my skin would rebel by attempting to purge everything within, and it didn't. Those days turned into a couple of weeks, which turned into a month and is now right about at the six-week mark. Since that morning in the Caudalie store, I've purchased a daytime moisturizer with SPF plus a full-size tube of that awesome night cream.
Now, for the sake of comparison, I will share the prices of everything I was using before versus everything I'm using now, but reader beware that Caudalie products are less expensive here in Europe than they are in the U.S. Also, the other brand I use for a few things, Lavera, is German and thus also less expensive over here. This all means that the Amazon links I'm sharing in this article do not necessarily display prices that align with what I've indicated as my own expense, but of course, you're welcome to do your own price comparison research if a product I've mentioned here has piqued your interest. (And no, absolutely none of this is sponsored. I'm naming products in the interest of context and transparency and I assure you've I've voluntarily chosen and paid for all of them!)
What I was using in my old skincare routine and how much I was paying:
Lavera Refreshing Cleansing Gel

– 5.95 EUR ($6.70 USD). I love this face wash because it does a brilliant job of cleaning without feeling like I've stripped my skin of all moisture, it's organic, and the key ingredients are oily face-friendly. (I'm still using it now.)

Garnier SkinActive Micellar Water

– 3.45 EUR ($3.90 USD). I used this occasionally, either in lieu of toner or to clean up stubborn mascara under my lower lashes. (I still use it because the bottle is large and hasn't run out since I switched up my routine.)

Garnier SkinActive Aloe Gel

– 4.95 EUR ($5.55 USD). My husband uses this so I'm actually still buying it regularly, but it's my face we're talking about here so I'm filing it under "old." This is a lightweight moisturizer that feels pretty good going on, but maybe doesn't do so much beyond that.

Lavera Blemish Control

– 4.65 EUR ($5.25 USD). This is a great spot treatment. Again, it's organic and the combination of zinc, mint, and salicylic acid are effective at soothing and expediting the clearing-up process of blemishes. (I still use this.)

Lavera Purifying Mask

– 1.45 EUR ($1.65 USD). My favorite mask when my skin has that not-so-fresh feeling or is otherwise acting troublesome. Organic (do you see a theme with this brand?) mint, aloe, and sea salt refresh my skin and help tone down redness from irritation. (If you guessed that I still use this as well, you're correct.)

Eucerin Sun Fluid SPF 30 – 12.00 EUR ($13.50 USD). This is a bit of an oddball because the bottle I currently have was purchased spur-of-the-moment in Lisbon when the sun peeked out on a November afternoon and we realized we'd neglected to bring face sunscreen on our weekend trip. We popped into a pharmacy and bought this one because the lady said it was least likely to aggravate our oily faces (life hack: find a partner with similar skin issues so you'll always have someone to commiserate and share products with). It's okay. It's not as mattifying as I would like and I probably wouldn't buy it again, so I don't feel too badly about the fact that I can't find it on U.S. Amazon to link to here.
Total costs: 32.45 EUR ($36.40 USD)
I'm not even going to attempt to estimate the frequency with which I purchased these products. Between sharing some with my husband and not necessarily using each item on a daily basis, I honestly have no idea. Welcome to Budgeting with Summer 101, please take a seat.
What I'm using in my new skincare routine and how much I'm paying:
The same Lavera facewash I just mentioned.

The same Lavera spot treatment.

The same Lavera face mask.

Caudalie Vinoperfect Radiance Moisturizer with SPF 20

– 28.60 EUR ($32.00 USD). This product is also available in two tinted shades, but I'm not a fan of tinted moisturizers so I just use the regular version. I like its lightweight texture and included SPF. I've been pretty diligent about using sunscreen on my face for the last few years now anyway, but having it combined with my daytime moisturizer ensures I don't get lazy on cloudy or mostly indoor days and skip that important step.

Caudalie Vinopure Skin Perfecting Serum

– 30.20 EUR ($33.90 USD). This is an anti-blemish serum for use both morning and night before moisturizer. I love it because it feels and smells great, but most importantly it seems to be doing its job. My face is calmer, my pores don't look quite as huge, and my skin doesn't get as oily throughout the day. Truly a revelation!

Caudalie Vinoperfect Overnight Renewal Cream

– 28.60 EUR ($32.00 USD). As mentioned, I loved this stuff from first use. The only downside is that they've discontinued it in favor of a similar and allegedly even better formula, but the pharmacy near my apartment still has several tubes in stock so I snagged one a couple of weeks ago. I'll probably switch to the new one when this tube runs out rather than trying to track down another from leftover stock somewhere, but for now, I wanted to stick with what I already knew was working based on about four weeks of use of the sample.

Lavera Anti-Aging Eye Cream

– 9.55 EUR ($10.70 USD). To be honest, the jury is still out for me as to whether there's really anything special about eye creams versus the creams we slather across the rest of our faces, but what an eye cream does provide is a reminder to pay attention to that specific area. Rather than dropping 30 bucks or so on a Caudalie eye cream, I went ahead and scooped this version from Lavera because I already like and trust the brand. I also use it on my comically thin, shapeless lips, which I decided to do after reading the back of a Caudalie anti-aging eye cream that suggested lip application as well. I'm still alive so far.

Caudalie Glycolic Peel – 22.70 EUR ($25.45 USD). This is so good. It goes on like a thick lotion. I use it once or twice a week in the evenings, let it sit for 10 minutes, rinse and follow with the serum and overnight renewal cream, and dang is my skin looking refreshed.
Total costs: 131.70 EUR ($147.75 USD)
That's an increase of 99.25 EUR ($111.35 USD), which feels like a big jump for someone who isn't "a beauty person" in the sense of deriving joy from learning about and using different skincare products, but it could be worse. I can be a real brand loyalist sometimes, and when I realized how much I was enjoying my new purchases, it was very tempting to ditch everything that touches my face in favor of a Caudalie takeover. Not only would this be financially not-great, but it's simply unnecessary. If I'm satisfied with the performance of and ingredients in less expensive products that I'm already using anyway, there's no reason not to stick with them.
If you find yourself in a similar quest to level-up your daily skincare game, there are two small-but-useful helpers you might keep in mind as you're perusing brands: samples and loyalty points. Samples are self-explanatory in that they let you try a product before you commit, so don't be shy about asking for them. There's no way I'd have dropped 30 bucks on a night cream if I hadn't had a generously sized sample to prove that the contents weren't going to make my face explode. As far as loyalty points, I don't know about other brands, but Caudalie lets you collect them with every purchase to be redeemed for full-size products once you've hit accumulated a certain amount. Even if you don't buy directly from a Caudalie retailer, there's a code on the inside of the packaging that can be entered on their website after the fact. Points are a nice way to either try something new without spending extra money, or just replenish your supply of something you already use and feel victorious about your smart savings.
But enough about the money stuff, because the most interesting thing about this entire process for me is how not half-assing my skincare routine has changed several other things for the better:
My awareness:
I used to rush through my face-washing process, and I had a bad habit of spending way too much time standing way too close to a mirror examining my face, which would lead to the terrible behavior of squeezing and picking and all those things we're always told not to do but sometimes do anyway. Even though I knew this was bad and would almost always make conditions worse, I had a hard time stopping because I was always so frustrated with the state of my face. Now that I've slowed down and I take my time each morning and night, using products that feel nice and actually make a visible-to-me difference, I'm so much less inclined to inspect and prod at my skin. I'm also more consistent with other little things swiping on lip balm throughout the day instead of just at night or when my lips feel dry, keeping my cuticles trimmed and moisturized, and not absentmindedly touching my face. It's a novel thing for me to enjoy the skincare process, but I really do kind of look forward to it now.
My confidence:
I still don't go hunting for mirrors or snap hourly selfies, but I've noticed that I don't avoid looking at myself quite as much as I used to. Don't get me wrong here, my skin is still far from perfect. I honestly don't know if anyone else can tell a difference in my appearance and even as I'm writing this, I have a few annoying red spots on my face — but I still feel so much better. Perhaps it's as simple as Holly put it in her story; maybe I feel better because I'm trying. I'm making a real effort and even if only I can see the results, well, that's good enough. And the makeup thing? I care even less about it (or the feeling that I "should" figure out how to use it properly) now than I ever have, and it feels fantastic.
My focus:
Maybe the oddest and most pleasant side effect of this whole experience is how I'm finding I'm not as apt to feel frustrated with my wardrobe or dwell on the things I don't like about my body. I'm moving through my days with a generally brighter outlook, existing in my own flesh sack with a greater sense of peace. I don't know if the answer to body neutrality is really found within a bottle of skin-clearing serum, but I'm taking this and running with it. Can feeling better about my physical self create the mental space to focus on other things? Maybe. I've been writing more, and I know it sounds absurd to try and claim that my inconsistency with prose has anything at all to do with bumps on my chin, but at the risk of sounding a bit woo-woo here, I do think there's some merit to the notion.
My attitude:
I guess this one ties in closely with confidence, but I've noticed that I'm more often in a better mood these days. I feel more positive than usual, even hopeful? Which, I know this sounds ridiculous. I can picture myself reading this article and thinking, "Um, congrats on washing your face?" or marveling over how few problems the author must have in their life if they're feeling this dramatically transformed by something so arguably trivial as a moisturizer — but what if we stop looking at the literal skincare products and dig more into the concept of appreciating the small changes we can make here and there to improve the quality of our lives? What if we hold onto the feelings of gratitude and excitement when we successfully try something new for just a little bit longer than it takes for the shine to wear off?
*****
Look, I know I've just prattled on for 3,500 words about taking care of my face, and I'm not blind to how "Millennial" or self-indulgent this can come across. But I'd like to close the piece by asking you to consider a change you've made, or something new you've tried, that had more of a positive effect than you anticipated. Bonus points if you share in the comments, but even if you keep it to yourself, just take a second today to appreciate something you've done for you. And it's totally fine if your thing involves a fancy new night cream.
Summer is an Oregonian-turned-South-Carolinian who moved to Germany in 2015. She enjoys adventures, cooking, and the internet. She's on Instagram, Twitter, and writes about travel, food, and expat life on her blog.
Image via Unsplash
Like this story? Follow The Financial Diet on Facebook, Instagram, and Twitter for daily tips and inspiration, and sign up for our email newsletter here.