From A To Zara: Confessions From My First Wardrobe Purge In 2 Years (+PICS)

If I had an unintentional capsule wardrobe, this would be it…
Recently I had a week off from work and decided to use some of that time to declutter my house. Plus, I had ordered some new clothes during Black Friday and felt guilty that I was adding more to a closet that was already filled with items I hadn't worn in years. If I was going to purchase new things, then the old (unused) ones had to go. I normally go through my closet at least once a year, but this year was hard. I barely wore anything aside from four pairs of leggings, two pairs of pajamas, three blank tank tops, and a handful of sweaters. If I had an unintentional capsule wardrobe, this would be it.
During a normal year, and during a long period of time when I actually went to an office every day for work, I'd wear a variety of clothes. One day would be high waist jeans and a loud blouse, paired with my Swedish Hasbeen clog sandals. Another would be a long, flowy dress worn with my favorite Zara leather jacket. Fridays I'd do a casual black jeans look with a T-shirt and flats. With that said I have a lot of clothes I haven't worn in a long time, and it's not because I don't love those clothes, or that those clothes don't spark joy. They spark so much joy, but these days the joy is drastically quieter. Quiet, muffled joy, thanks to perma-WFH life and pandemic living.
But regardless of an arguably uneventful year (in terms of going out),  I did fill two trash bags worth of clothes I hadn't worn and/or knew I'd never wear again (even if I worked at an office again). Or clothes I'd force myself to wear and then have the desire to immediately take them off. Through all this, there was a striking theme that popped out:
Everything I chose to donate was relatively inexpensive. Clothing items that I thought would add more personality to my everyday uniform. Instead, they made me feel uncomfortable, for a variety of reasons. I noticed that the clothes I did wear in the last 1 1/2 years were usually pricier investments I'd been more selective about (like a solid-colored cashmere turtleneck sweater, jeans that stretched in all the right places and hugged the rest, and soft button-ups). That's not to say I don't own clothing that are not expensive (in fact, 90 percent of my closet is Zara, Old Navy, H&M, and J.Crew/Madewell on sale), but the stuff I gravitated to the most were comfortable, sturdy pieces that were more closet staple versus fast fashion.
Here were some of the clothes that ended up in the donation pile:
1. Two sweaters from Mango that looked cute but were scratchy and made me sweaty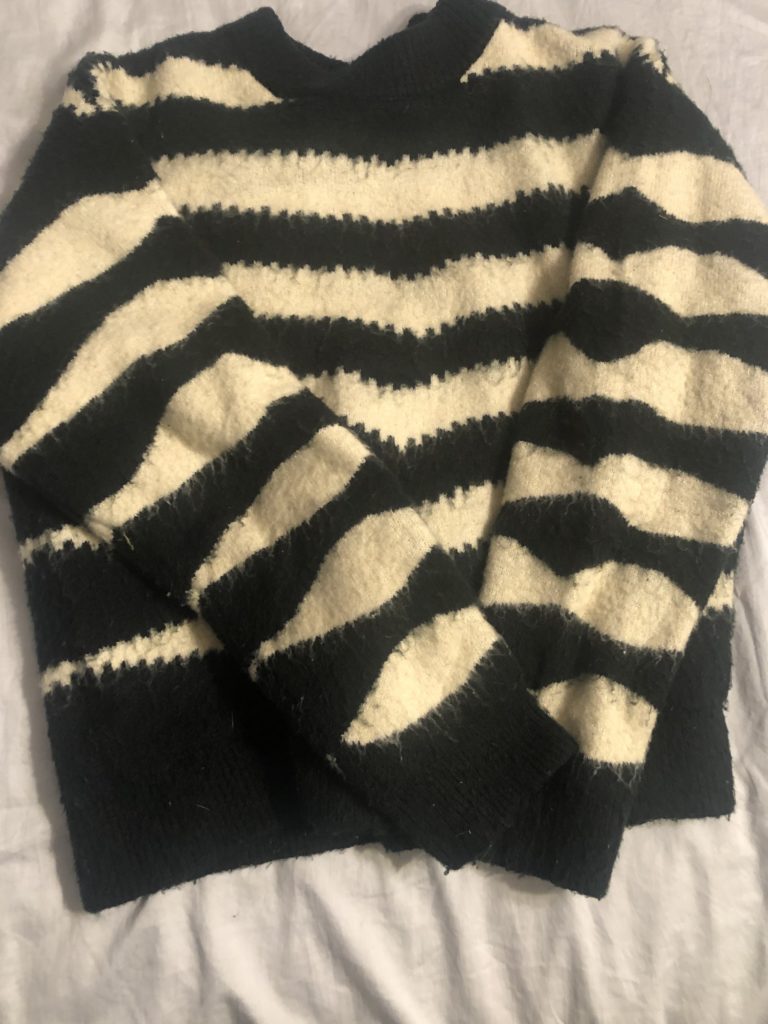 Aside from the material being scratchy and stuffy, these sweaters just didn't fit very well. I wanted to love them because I thought they looked cool, and at the time, I wanted to add more quirky sweaters to my closet since I worked in a freezing-cold office. But now that I get to control the temperature where I work, I really don't have the need for sweaters as often, and certainly not ones that aren't cozy and comfortable.
2. A lacy blouse from Zara that was elegant in theory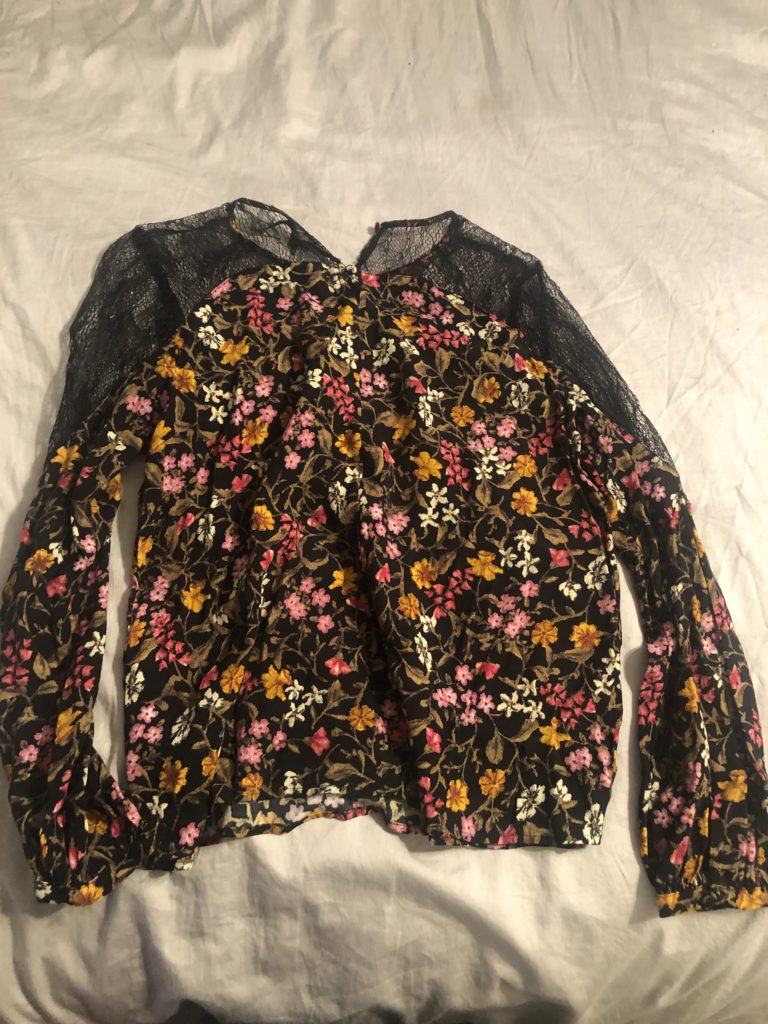 I thought the model looked so effortlessly fancy on Zara.com before I bought it. On me, the fit was confusing. The top wasn't long enough to be tucked in, but too long to look put together. Its awkwardness stumped me and my solution was to avoid it, altogether.
3. A flimsy dress from Urban Outfitters I only wore to the beach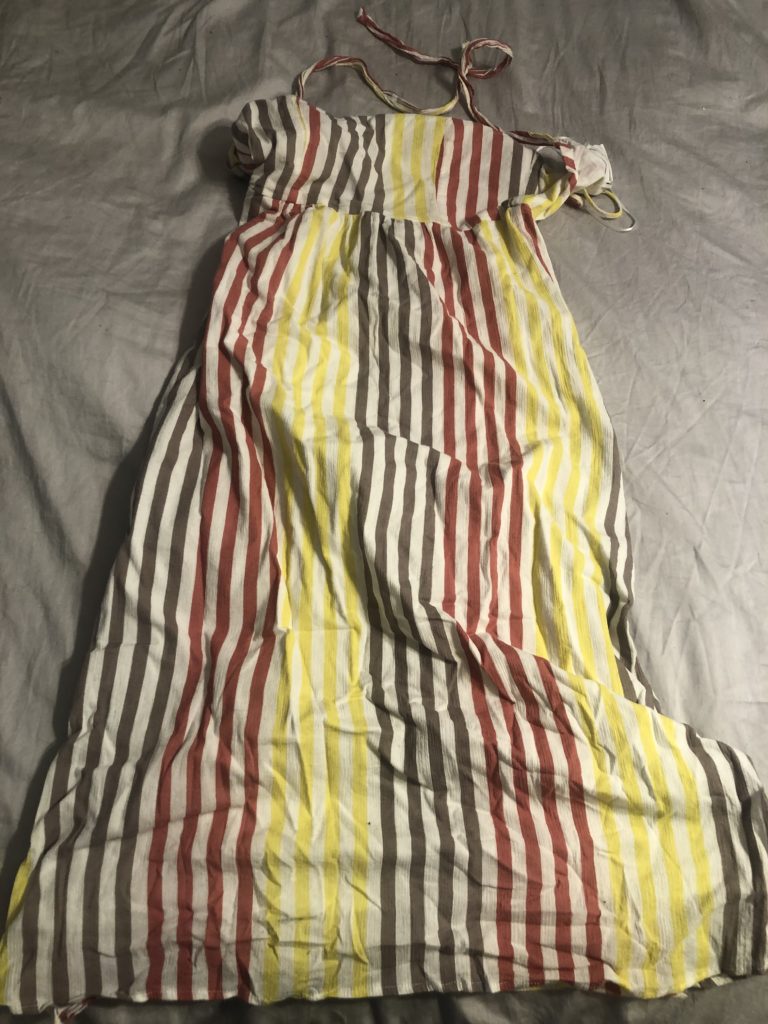 The material is so thin and this dress is nearly transparent, so wearing this to work was a no-go. It became the "vacation dress," and I'd wear it to the beach, knowing it would get covered in sand and ocean water, and it wouldn't matter if it wrinkled. I hope someday I'll get to go on a vacation again, but the shorts and tank tops I have are just fine. It was time to say goodbye to this striped number.
4. A pair of star pants from a quirky boutique shop called Valfre that were too small and fit very awkwardly

I thought I could be the kind of woman who could pull off wearing pants with stars on them, but I'm just going to call and spade a spade. These did not work. I am not that woman. They were made from a stiff polyester, so there was absolutely no give, and after lunch, the zipper would just slowly start coming undone, which was a liability. They also had a bit of an identity crisis. Were they flared capris? Not quite, as they were long-ish, but didn't reach my ankles. Were they culottes? No, too tight. I hope someone else will enjoy these zippy star pants — they were fun. In theory.
5. A pair of flats from GAP that don't go with anything I own and that give me foot cramps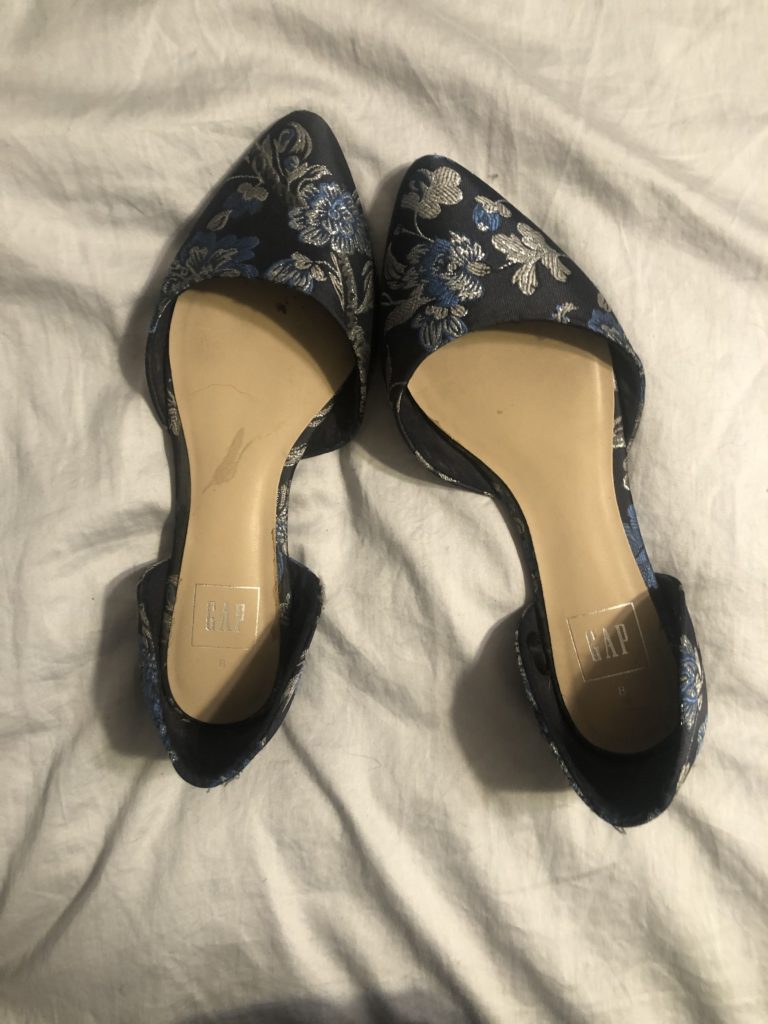 A lot of the times, patterned flats (or any kind of shoe, really) have a hard time matching with a wardrobe, especially these ones. I did get some wear out of them (usually with a plain jean and black tee outfit), but my other problem was that they'd give me foot cramps, and my arches would be killing me by the end of the day.
6. The dress from Banana Republic I thought would make people take me seriously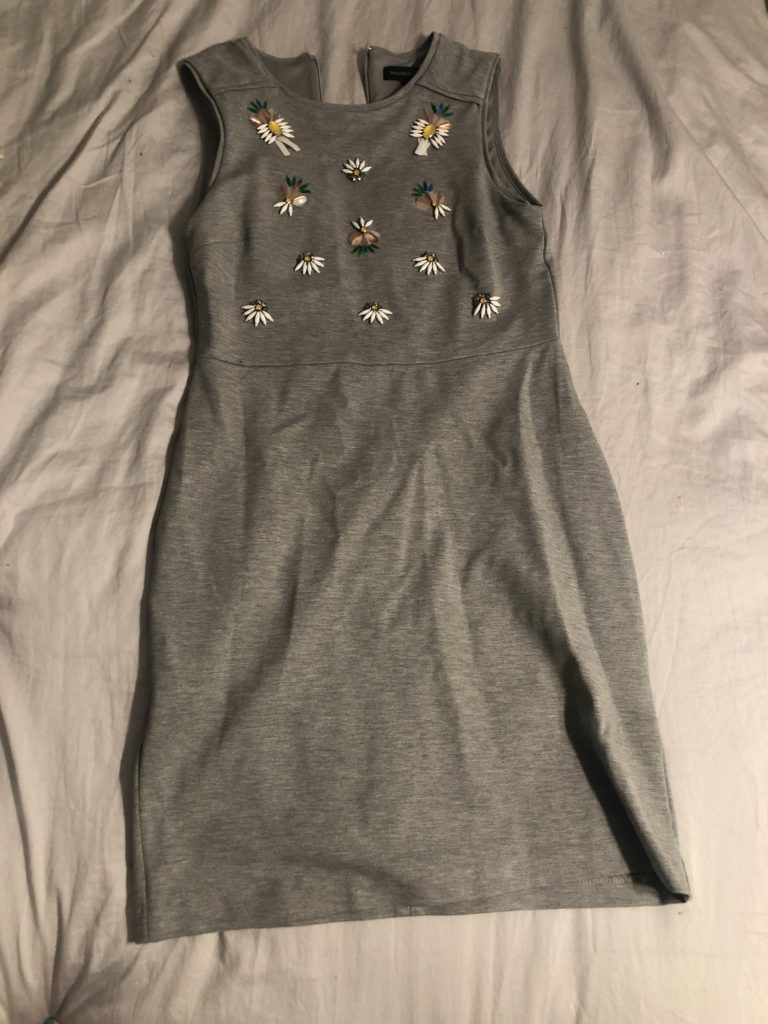 To be fair, I got this as a present from my well-meaning husband, who had listened when I complained I had, "no good work dresses that make me look like I know what I'm doing." The fit wasn't especially flattering, and the flower (and pineapples, I think?) patterns were actually made of some kind of plastic that popped out. This was designed during the Jenna Lyons era when 75 percent of dresses and sweaters had some kind of textured design or pattern or were meant to be worn with chunky statement necklaces.
***
I don't intend to go going shopping for a while, but when I do hit the web for something, I now know the items will need to meet certain qualifications. And hopefully the next time I go shopping, I can pick out items that'll see the light of day.
A girl can dream!
Gina Vaynshteyn is an editor and writer who lives in LA. You can find more of her words on Refinery29, Apartment Therapy, HelloGiggles, Distractify, and others. If you wanna, you can follow her on Instagram or Twitter.
Image via Unsplash