A Go-To Drugstore Beauty Routine For When You Know Nothing About Makeup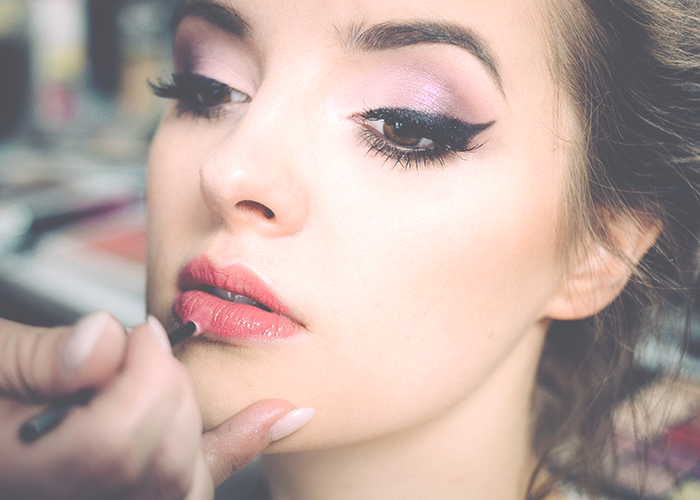 It's an unfortunate state of the working world: women who wear makeup are more likely to succeed.
Some regard this as an obvious fact: putting effort into your appearance means you care about your job, ergo, you will be rewarded for caring. Others see it as yet another tax on being a woman. Good-looking men are also favored professionally, but they aren't expected to spend the money or time on makeup (never mind the internal agonizing of Does this look okay? How much of a cat-eye is too sexy? Do red lips give the wrong impression? Will looking too trendy make me look like a ditz?)
I would love to say that I'm about to lift readers up and empower them with a "you go girl" message about how they don't need makeup. But unfortunately, I don't get to make that call. Plus, plenty of women don't have a problem with the idea of makeup (the expectation of it, however…), but are too intimidated to actually try it. After all, even drugstore makeup can seem expensive when you're used to buying none at all, never mind the cost associated with higher-end stuff. And when new Instagram-worthy trends like contouring, strobing and ombré lips pop up every few months, it's easy to feel like the world of makeup isn't friendly to outsiders.
I've spent my professional life bouncing between the two polarities of "completely bare-faced" and "full-on showgirl" (and have gained a decent knowledge of products thanks to my teen years as a dancer), but most days I choose my simple routine with only a few key products. They're cheap, they're effective, and they make me feel confident without taking up an oppressive amount of my time.
In an effort to be inclusive, all of these products I've listed happen to be cruelty-free and vegan. Most can be bought at conventional stores like Target, Walmart and standard pharmacies, but all are also easily found online.
1. Heavy-duty concealer
Foundation is one of the most irritating makeup products — finding the right one is really difficult, and applying properly takes a lot of skill. The wrong foundation, especially cheap kinds, can really mess with your skin, and the more expensive kinds usually cost upwards of $40. So if you're still in the process of figuring that out (or don't ever plan to) but still want to make a difference in the appearance of your skin, a multi-tasking concealer with full coverage is a good middle-ground. I prefer liquid to stick, and when torn between shades, will always pick the slightly darker one. Use this under your eyes and on your biggest problem blemishes, blending with a wet makeup sponge or, if you're feeling particularly confident, your ring finger.
I like: Wet N Wild Photo Focus Concealer
2. Translucent setting powder
This is one you can probably skip if your skin is permanently parched, but if your skin is even close to "normal," let alone so-called "combination" or "oily," a setting powder will make a major difference for you. Tinted powders can look heavy and have a hard time blending, but a fine, colorless powder on the T-zone and loosely dabbed over anywhere you put concealer can help keep moisture at bay and keeps your makeup in place.
I like: GOSH Cosmetics Prime 'n' Set Powder
3. Blush/bronzer combo
Contouring is everywhere, and while effective contour can be impressive and dramatic (not to mention fun), don't be fooled into thinking that you need to contour, especially for everyday makeup. Trying too hard to alter the appearance of your face shape is time-consuming and, ultimately, useless. I like to go for either a pre-paired blush/bronzer duo or a single pallet that has a mix of both and apply to my cheekbones out toward the temple — that way, I'm not washed out but don't look too severe.
I like: Physician's Formula Multi-Colored Pallet in Blushing Peach
, E.L.F. Contouring Blush & Bronzing Powder
4. Minimalist mascara (and an eyelash curler)
I was barely a teenager when Avril Lavigne burst onto the scene and popularized the "continuous line of black eyeliner all the way around the eye" look. Throw in the rise of Top Model and its incessant peddling of a "glamorous smoky eye," and it was a recipe for eye makeup hell. Let me be clear: high-concept eye makeup looks great when pulled off by someone who is really, really damn good at it. But honestly, just a few coats of mascara on freshly-curled lashes can draw positive attention to the eyes with about one-tenth of the fuss. You don't even need crazy-thickening mascara — just simply combine a five-second pinch of the eyelash curler with a glossy black mascara.
I like: E.L.F. Beautifully Bare lash tint mascara
, Wet N Wild Mega Length mascara
, E.L.F. studio eyelash curler
5. Brow pencil
You'll recall that the rabid over-plucking of the late 90s and early 2000s led to makeup experts desperately yelling at us consumers to leave our damn eyebrows alone. Eventually, we followed that advice — sort of. Now the trend is thick, shapely brows that look beautiful when pulled off by women who already had the makeup skills, but when they don't work they look as ridiculous as an aggressive contour. When it comes to brows, you should follow the same rule you would with any other part of your face: use products to enhance, but don't try to make the feature look like it comes from someone else's face. Don't flip out about having tinted wax, setting powder, gel and stencils. Just grab a pencil (I prefer one that has a brush built in) and use light, hair-length strokes (think about as lightly as you would apply a pencil when sketching something) in the length that the hair grows. Brush as you go to blend and shape.
I like: Milani Easybrow Automatic Pencil
6. Tinted lip balm
The era of lip gloss is all-but over, and there are a lot of really great lipsticks out there that don't seem as intimidating as the full-coverage, clownish shades that may have scared some of us off in high school. Still, diving into lipstick isn't always easy: getting to know what shades work for you when dealing with more opaque coverage takes some getting used to. The medium ground here is in a good tinted balm. Tinted lip balm is a growing market for a good reason — you can add healthy shine and color with some much-needed subtlety. Usually, a rosy-pink hue will work with most skin tones. (Note to novices: don't let anyone convince you that "nude" means beige. Lips aren't beige, and there is no one-shade-fits-all "nude.") I prefer to buy a tinted lip balm from companies that specialize in making regular lip balm and/or natural body products more than conventional makeup companies, since those "balms" are too waxy and rarely contain sufficient moisturizing ingredients.
I like: Pacifica Color Quench Lip Tint in Blood Orange
, Hurraw! Black Cherry tinted lip balm
Bree Rody-Mantha is a business journalist and dance teacher living in Toronto. In her spare time she enjoys sport climbing, lifting and running the vegan food blog, Urban Garlic. Follow her on Twitter here.
Image via Pexels