My First Month At TFD, My Money Philosophy, & What We Have Coming Soon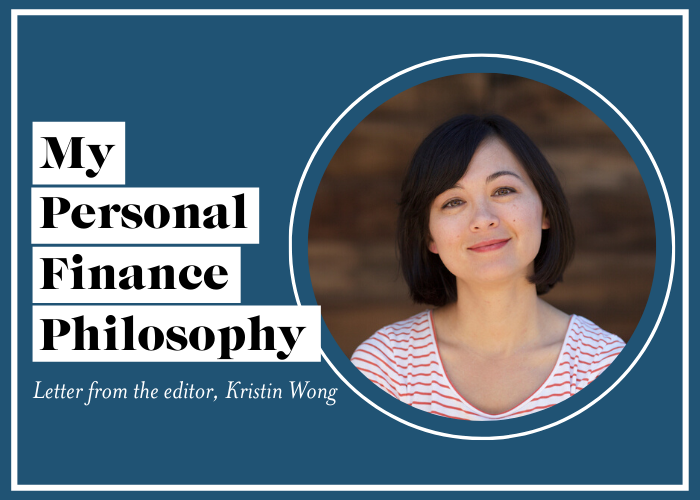 Hello, readers! In case you missed it, I'm Kristin Wong, the new managing editor of The Financial Diet. Each month, I'll be checking in with you in the form of a letter from the editor – I'll share what's been on my mind, what we've been up to on the site, and what you can expect in the coming months.
When I was a kid, we were broke. My mom worked a minimum-wage job at the grocery store, put my Christmas gifts on layaway, and saved cash in a shoebox hidden in our closet. "Every little bit adds up," she would tell me, and by the time I was eight years old, she saved enough to go to night school and get a higher paying job, proving herself right. 
Granted, this was back in the day when interest rates were higher and it wasn't impossible to maintain a basic cost of living on a minimum-wage salary. Still, I learned from a young age that money is powerful. It can buy you choices, access, and opportunities. 
But this is truer for some groups than others, and it's also why money is important not only on a personal level but also on a social one. Money is political, as every social issue hinges on it, from climate change to healthcare to workplace equity. Before working at TFD, I was already a fan of what they were doing — they've covered personal finance in a way that's fun and accessible without ignoring the fact that money is also a complicated and fraught social issue for many people.
In my first month on the team, I've worked with a handful of talented writers who have helped to preserve this ethos. They've told fun and useful stories, but also difficult and insightful ones. 
Bree Rody wrote this compelling piece on what it's like living in the middle of gentrification, for example, and Jazmine Reed-Clark returned to the site with an open letter to corporations who think diversity and inclusion means simply putting a person of color on their workplace brochures. 
These topics have everything to do with money. The more we talk about the systemic issues that hinder or outright prevent people from getting ahead, the better we can discuss money in a way that's productive and accessible for everyone, not just the most privileged among us. Let's be honest: personal finance is not universal for everyone because upward mobility is not universal for everyone. Having written about money for six years or so, I firmly believe it's pointless to talk about personal finance without talking about these larger issues.
While reading writer submissions, I found myself nodding frequently. Our issues with money can feel atypical and isolating, yet our experiences with it are so common. For example, when Grace Dada wrote about the importance of separating self-worth from career success, I felt that. And when Kimberly Bui wrote, "I've learned that stepping into my imposter syndrome and facing the fear is way better than avoiding it," I felt that, too.
We had some lighthearted pieces, too, because sometimes you just need to know how to optimize your budget or save money on groceries. I loved this post from Margaret Dunham on how to host a luxury swap party and Mercedes Killeen wrote about five habits that made her feel more like an adult, which inspired me to clean my filthy bathroom on a Sunday. The word "self-care" gets tossed around a lot, but I think of these types of articles as a way to take care of myself. They help me get my shit together. (Even as an Elder Millennial, there are still so many ways in which I need to get my shit together.)
Money is hard, and we're all trying to be a little bit better at it. Every little bit adds up, after all. 
But in trying to improve our personal finances and navigate the system as it exists, it's important to have resources to help you along the way. My hope is that our stories will make you feel a little more confident with money, and a little less alone when you struggle with it.
Speaking of getting it together, as spring approaches, we're all looking for ways to clean up and organize our lives. Along those lines, we have some useful related content lined up for February and March, from spring cleaning your finances to managing your digital life. If you're planning a closet splurge this spring, you'll enjoy an upcoming post from a Buffalo Exchange buyer who shares insider tips for reselling your clothes. (I've said it before, but my personal "walk of shame" is leaving Buffalo Exchange with all the clothes I brought in.) We also have some timely and compelling essays from great writers that I can't wait for you to read.
February is off to a solid start in the TFD office, and we hope it is for you, too. 
Like this story? Follow The Financial Diet on Facebook, Instagram, and Twitter for daily tips and inspiration, and sign up for our email newsletter here.