How To Be Good At Weekend Meal Prep (Featuring A Month Of Recipes)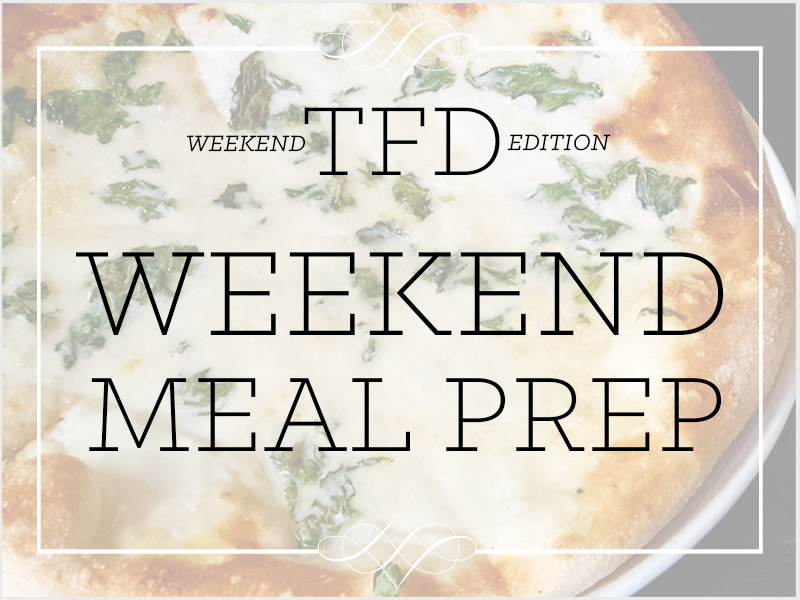 It can be hard, when you work all day (as most of us do), to find the energy and desire to whip up a homemade dinner from scratch. You're tired, and often come home late, and the last thing you want to do is stand in your kitchen for an hour while you put together something nutritious and thoughtful. So you reach for Seamless, or just snack on aimless things while standing at your kitchen counter, half in a daze. No matter how much you want to become the person who cooks homemade meals each night, when confronted with the exhausting reality of daily life, it can be extremely hard to actually do it.
But it doesn't have to be this way! In fact, by doing a little prep on the weekends — a frankly fun activity in itself — you can easily eliminate 70 percent of the work for when dinnertime rolls by on each weeknight. If you make the process of weekend prep its own enjoyable activity (think a glass of wine, good music or show in the background, and the repetitive, calming motions of chopping, cooking, and organizing things), it can be one of the things you most look forward to during your week.
A lot of advice for bulk cooking advocates making a lot of food at once and freezing it . The reality is that most of us are simply NOT going to have enough freezer space in which to store all of the food we prepare. And speaking from experience, at any given time, freezers will tend to be half full, so there's only enough space to accommodate a few containers of soup, homemade burritos, or large container of sauce. You should organize your freezer space wisely, and make a list of what you're going to eat for the week, so most of it can go in the refrigerator. And for extra savings be sure to plan menus based on what is on sale at the grocery store.
And now, how to master being a weekend prep cook:
Planning
Take a half hour to sit down and brainstorm your menu for the week. Try to utilize ingredients like grilled meats or roasted vegetables that can be used multiple times in extremely different recipes. For example, a marinara sauce can be used for pasta one night, chicken parmesan the next night, and ladled over hot sandwiches for lunch another day. Another good example would be a large batch of sautéed ground turkey (or ground beef) that can be used in turkey taco salad, sprinkled over pizza, stirred into quiches, or made into burritos. Plan your grocery shopping accordingly, and create a checklist so that you don't forget anything.
Preparing
Set aside at least a few hours to cook the ingredients you need, and make sure to budget your time wisely so you can do multiple things at once. If you have meat in a slow cooker, for example, use the time you're waiting for it to finish, to chop vegetables in bulk, prepare large salads, or cut up fresh fruit for weekday snacks. Generally, it's better to prepare two base ingredients — a protein and a veg — so that a) you're not eating the same base ingredient every day for a week, and b) you have more options when it comes to recipes.
Freezing Tips
– Freeze meats in smaller portions for 2-3 people, and separate them into plastic freezer bags so they are more easily defrosted and take up less space.
– Consider writing the food type and freeze date on the bag to keep track of frozen items.
– Allow fresh dishes to completely cool off before placing them into the freezer.
– Arrange containers in a single layer. This will allow enough room for air to circulate around each container so the food will freeze rapidly.
Be sure to check out this freezing guide here.
Below are four sample menus for a month of eating dinner at home. Each weekly menu utilizes two core staples which are cooked up on Sunday, with one recipe option for each day of the week. Bear in mind that these recipes are just suggestions, and in a pinch — if you don't have everything you need for a big recipe on any given weeknight — there are many different meals that can be made quickly and from limited ingredients. Think mix-and-match meals, or pulling together what you have lying around.
Be creative!
Week 1
(Core ingredient = Ground Turkey/Beef + Pizza Dough)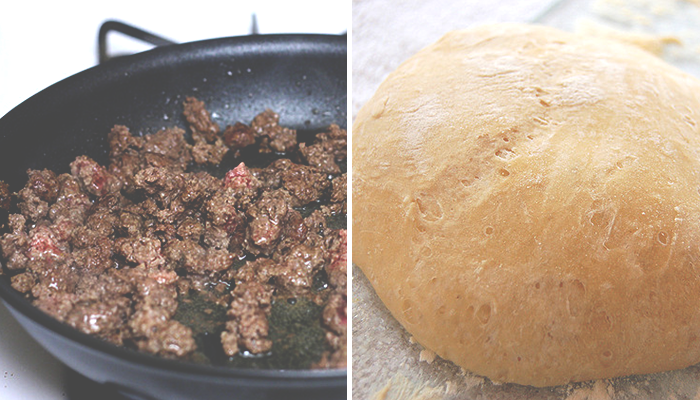 Day 1 – Turkey Taco Salad
Day 2 – Traditional White Pizza
Day 3 – Turkey Burgers
Day 4 – Salami and Spinach Stromboli
Day 5 – Homemade Burritos (using ground turkey or beef)
Day 6 – Roast Vegetable Pizza
Day 7 – Greek Salad with Garlic Flatbread
Week 2
(Core ingredient = Rice + Roasted Root Vegetables)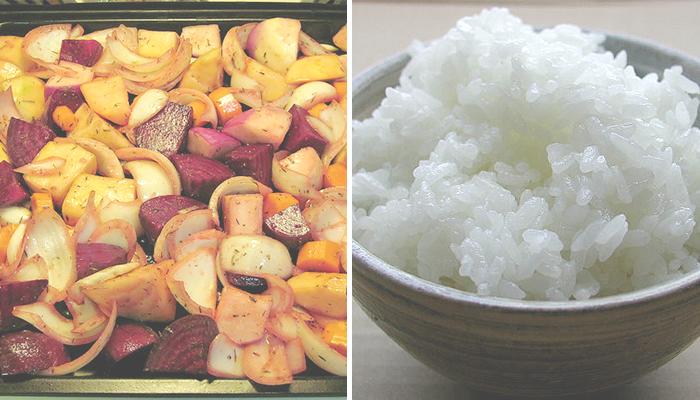 Day 1 – Vegetable Quiche
Day 2 – Vegetable Omelettes + Toast
Day 3 – Chicken Fried Rice
Day 4 – Wild Mushroom Risotto
Day 5 – Vegetable Risotto
Day 6 – Pan-Fried Lemon Chicken with Roast Vegetables
Day 7 – Vegetable Bean Soup
Week 3
(Core ingredient = Marinara Sauce + Grilled Chicken)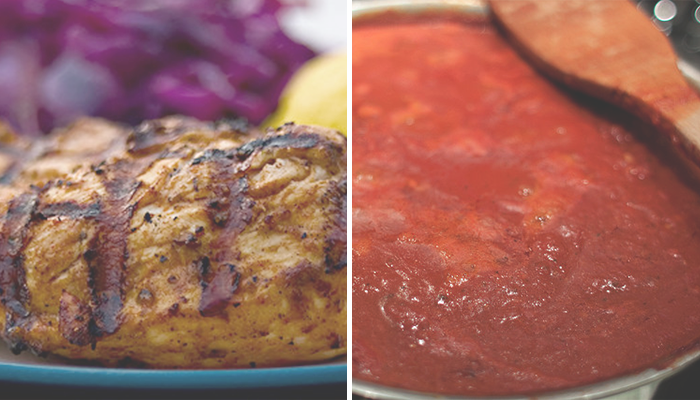 Day 1 – Pasta + Salad
Day 2 – Lightened-Up Chicken Parmesan
Day 3 – Provencal Stuffed Tomatoes
Day 4 – Grilled Chicken Fajitas
Day 5 – Easy Minestrone
Day 6 – Grilled Chicken Sandwiches
Day 7 – Grilled Chicken Salad
Week 4
(Core ingredient = Shredded Pork/Chicken + Salsa Trio)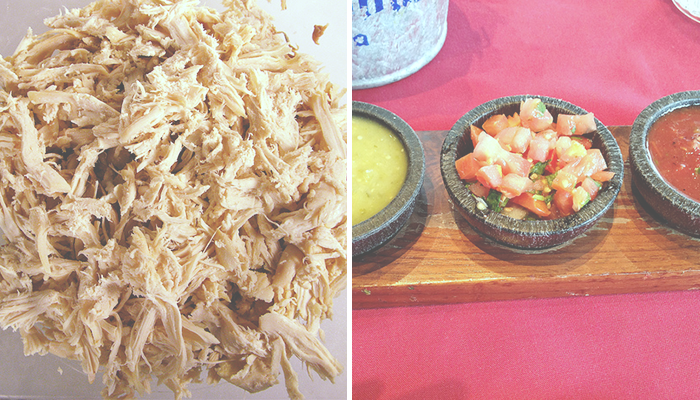 Day 1 – Pulled Pork Sliders
Day 2 – Fish tacos with Corn Salsa
Day 3 – Pineapple Pulled Chicken Lettuce Wraps
Day 4 – Salsa Verde Enchiladas
Day 5 – Pulled Pork Hawaiian Pizza
Day 6 – Salsa Chicken Soup
Day 7 – Pulled Chicken with Cherry-Chili BBQ Sauce
Other items to consider making in bulk on Sunday are:
— Large containers of iced tea like mint tea, limeade, and green tea lemonade.
— Breakfast cookies
— Quinoa and Rice & Beans
— Salad dressings
— Granola
— Hummus
Having a game plan with which you can attack weekly meal prep will ensure that you have a refrigerator filled with a wide variety of healthy options to whip up during the week. When you utilize leftovers smartly, and stretch each dollar spent on groceries to the fullest, you can make weeknight dining easy, fun, and — most importantly — inexpensive!
Image found here, here, here, here, here, here, here & here.